1/8/03 22:15 Z ALSO SEE: RadarMatrix January 04 to January 09
| | |
| --- | --- |
| GOES WEST | GOES EAST |
| | |
GOES HEMISPHERE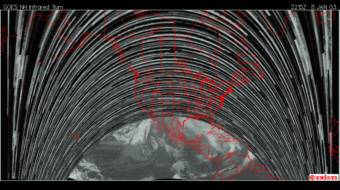 GOES USA ANIMATION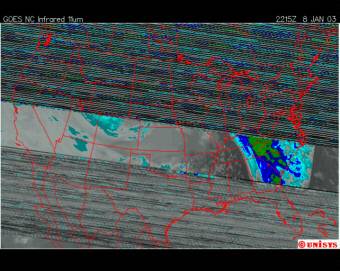 EARLIER USA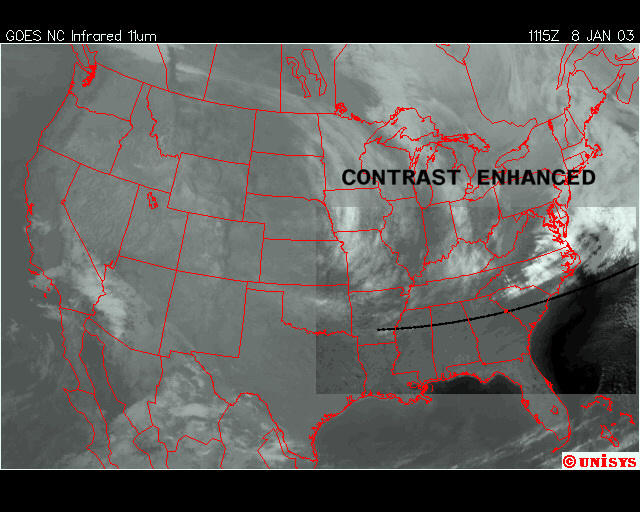 NOTES:
East - GOES east view centered over 75 west longitude showing eastern US and Atlantic Ocean.
West - GOES west view centered over 125 west longitude showing western US and Pacific Ocean.
GEOS 8 does Long W 75
GEOS 10 does Long W 135
Hemisphere - this is a pieced/merge view of both the GOES east and GOES west satellite views remapped to a Mercator projection.
US - this is a pieced view of GOES east and west remapped to a polar stereographic projection.
Regional - these are regional views remapped to a polar stereographic projection.
NOAAPORT and WXP, contact Dan Vietor at devo@ks.unisys.com
EVENTS IN SYNCH
REPORTS PENDING

Hangar [simply tossing data here, sort out later]
Date: 1/10/03 8:52:50 AM Pacific Standard Time
Kent
Just a quick update on the passenger AND the mil plane crashes in Turkey. Apparently the pasenger plane split into two mid air, while the two mil fighters collided head on..all planes were in the same area near the south-eastern city of Diyarbakir. They all flew into some weird fog/cloud cover..?
Two of the passengers on the civilian plane were british guys going to visit a power plant - more later
Howard