ED NOTE: I have a little surprise for you today. Are you sitting down? The House yesterday passed Bush's Homeland Security Bill by 299-121. They were handed the package about 5:15 am yesterday and approved it about 8:30 p.m. It was some 480 pages long - they didn't even read it. They snuck in on page 76 of the bill language similar to the Emergency Health Powers Act (MEHPA) which will give unlimited smallpox vaccines powers! A final vote on the proposal in the U.S. Senate could come as early as Friday. CONTACT YOUR SENATOR IMMEDIATELY!
----- Original Message -----
URGENT! Smallpox bill on House floor tonight!

Association of American Physicians & Surgeons
The Voice for Private Physicians Since 1943
/center>URGENT! Unlimited Smallpox Vaccines Powers in New Homeland Security Bill

-HR 5701 will be voted on tonight in House
-Most won't have time to read the 480-page bill
-Similar to defeated state Emergency Health Powers Act (MEHPA)
-Gives HHS Secretary unlimited power to declare bioterrorism emergency
-Plus unlimited power to vaccinate, quarantine?
-Tell Congress and White House to remove this section. ACT TONIGHT!
-------------------------------------------------------------------------------------------------
The new Homeland Security Department bill has hit the floor of the House of Representatives this afternoon, and will be voted on tonight!
Most of the Members won't even have a chance to read the 480 pages of H.R. 5701 before they vote on it in hours. But we have and some of it is alarmingly familiar, reading like the state Model Emergency Health Powers Acts (MEHPA) that so many have worked so hard to defeat this year. Instead of giving the unlimited powers to a governor, the powers will now be bestowed on the Secretary of HHS. Specifically, Section 304, Subsection C "Administration of counter measures against smallpox" gives the Secretary of HHS these unchecked powers (pg. 76):

--Declare an actual or POTENTIAL bio-terrorist or other kind of incident
--He can administer "countermeasures" to a category of individuals or everyone
--He can continually extend the declaration without Congress's consent

Also, if you are harmed, you cannot sue or take any other civil remedy.

This section will give the Secretary unlimited power to define a real or potential threat, to take any measures he decides, and to do it for as long as he wants.

WE MUST ELIMINATE THIS SECTION AND WE MUST ACT QUICKLY
IMMEDIATELY tell your Member of Congress not to pass the bill tonight with Section 304, Subsection C "Administration of counter measures against smallpox." This section must be deleted until we have an honest accounting of how much power it would give the Secretary.
Questions to be answered:
What are the "countermeasures" that will be taken? Quarantines? Forced smallpox immunizations?
What is the definition of a "bioterrorist incident" or other incident to merit a declaration?
What constitutes a "potential" incident?
Who will act as a "check and balance" to the Secretary's unlimited powers?

Bush set to win passage of national defense super-agency
http://home.frontiernet.net/newsdetail.asp?id=QUSHSECURITYPRGXEUCND
Copyright 2002 by Agence France-Presse (via ClariNet)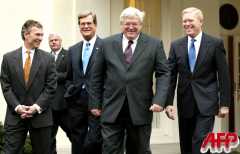 WASHINGTON, DC, 13-NOV-2002: Senators Tom Daschle (L) and Trent Lott (2nd L) along with Speaker of the House Dennis Hastert (2nd R) and Congressman Dick Gephardt (R) walk out of the West Wing of the White House to speak to the media after a breakfast with President George W. Bush in the Oval Office November 13, 2002 in Washington. Bush met with Congressional Leadership to discuss passage of the Homeland Security Department and the United Nations resolution on Iraq. [Photo by Stephen Jaffe, copyright 2002 by AFP and ClariNet]
VIEW LARGE PHOTO
WASHINGTON, Nov 14 (AFP) - In a major legislative victory for US President George W. Bush, the House of Representatives voted to create a multibillion-dollar agency to lead the nation's defenses against terrorism, with the Senate expected to follow in the coming days.
The compromise proposal hammered out between top lawmakers and the White House, which would bring about the largest reorganization of the US government since 1947, passed Wednesday in a 299-121 vote.
A final vote on the proposal in the US Senate could come as early as Friday.
Before Wednesday's vote, White House spokesman Scott McClellan hailed the compromise for ending a dispute with opposition Democrats over Bush's efforts to be able to hire, fire, re-train and promote employees stripped of civil service job protections.
"This legislation meets our requirements and gives the president the authority and the flexibility to protect the American people, and we are hopeful that Congress will get the legislation through by the holidays," he said.
The measure would create a Cabinet-level Department of Homeland Security with some 170,000 employees and a 38-billion-dollar budget, by rolling all or part of 22 federal agencies into one super-agency.
The deal came after three Senate moderates -- Republican Lincoln Chafee and Democrats John Breaux and Ben Nelson -- came to an agreement with the White House on the issue of employees' rights.
Senate Democrats earlier had balked at giving the president power over department employees, insisting workers' rights had to be better protected.
Majority Leader Tom Daschle said that while he was against the compromise, because he believed it opened the door to worker abuse and did not provide adequate oversight of the new department, he would likely support final passage in order "to move the ball forward."
Originally crafted by lawmakers led by Democratic Senator Joseph Lieberman shortly after the September 11, 2001, terrorist strikes, Bush had been opposed to the plan until lawmakers launched a probe into the intelligence lapses that allowed al-Qaeda militants to strike with hijacked airliners, killing more that 3,000 people.
The president later took up the cause and made passage of his version of the legislation a key issue in the November 5 mid-term, legislative and gubernatorial elections.
But Lieberman, who said it was critical to pass the bill to close the "painfully serious" vulnerabilities in US national security, was disappointed that the final version of the bill had dropped the establishment of a commission to investigate the attacks.
"We owe this to the families of September 11 victims," he said on the Senate floor.
Although the new department absorbs such agencies as the Coast Guard and the US Secret Service, it will not include the Central Intelligence Agency or the Federal Bureau of Investigation -- the two agencies that came under the heaviest fire for 9-11 intelligence failures.
Some analysts believe the proposed department will be ungainly.
"It's a big, hugly, messy, bureaucratic organisation that will take years to realize," said Thomas Mann, senior fellow at Brookings Institution, an independent organization devoted to public policy research.
"It became more of a symbol and a political tool than a critical part of our domestic security efforts," Mann said, calling the proposed department a mere "realignment of the policies and programs" dealing with terrorism.
In a matter of hours on September 11, 2001, 19 hijackers took over four passenger planes, crashing three of them into the Pentagon and New York City's World Trade Center Towers. The fourth plane slammed into a field in Pennsylvania.
Other new provisions in the compromise bill include allowing pilots to carry guns in the cockpit, procedures to encourage private industry to share infrastructure vulnerabilities with the government, and setting up volunteer teams to help local communities respond and recover from attacks on information systems and communications networks.
It also provides for a one-year waiver for airports to comply with baggage screening security requirements.