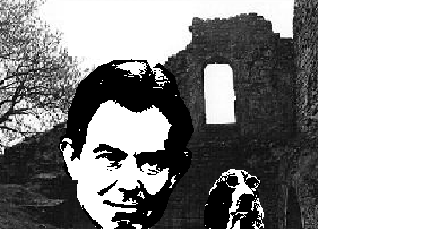 DISCLAIMER: characters in these Toons are not meant to resemble anybody living, dead or otherwise.
However, in deference to breaking news:
Reports of war draw fire to Fox
TV: Industry critics say network needs to clear the air over Geraldo Rivera's 'friendly fire' reports from the front.
Rivera, Fox ripped by rivals over war coverage
KOOL KENT KARTOONZ

KENT HAS ASCENDED! (alas, he ended up in toon-2D insteada cosmical-4D)

KENT'S ALMOST-DAILY UNRELIABLE KARTOON SERVICE
NEW MYSTICAL-MAGICAL ENDLESS SERIAL: THE BLAIR sWITCH PROJECT

[Enigmatic toon-series starring Tony Blair, both Georges, myself, my kid, and my wife]
HOW THIS WORKS, PLEASE DO USE AND CIRCULATE THESE TOONS, BUT:
1. If you are a viable Web Baron, making an income with your website, then dammit, tip this poor starving old coot artist with a responsible, but voluntary coin. An Artist's experience in America: ordinary poor working folk usually spring for a healthy jingle; whearas, some smug Daddy Warbucks richy-brats toss skinpy pennies, sigh, time to reverse this cultural-plight, eh?
PAY THE PIPER
Kent Steadman
425 South 156th Street
#119A
Seattle, WA 98148
2. But if you are a scroungy beatnik mangy artist, like yours truly here, barely making it to the next can of catfood, then freely take the cottonpickin KENT-TOONS (right-click and save), BUT LINK BACK TO ORBIT for cryin out loud! However, when you DO get a few extra coins, send a tip, SHEESH!
3. If you are a Hollywood rip-off ratso-type, then nothing will prevent a sleazy-rip, but you will be subject to the haunt of the Muses! Watch out! Snake-headed god/godesses ain't fun, nosireee!
4. Of course ordinary Readers can come here to this URL too. Same sloppy rules apply sort of: HELP IN WHATEVER WAY YOU CAN<best beg yet.
BREAD AND BUTTER
ALTERNATE TIP SNAILMAIL ADDRESS:
Kent Steadman
425 South 156th Street
#119A
Seattle, WA 98148
Is this crummy busyness scheme here going to work? Who knows! Maybe Kent will ascend to Artist-Heaven, otherwise known as Capitalist-Hell. Maybe our idiot leaders will nuke the world and all its sister planets. Maybe a big magic wormholey zipper will unzip in the sky and ZAP-- suck away all crumbs in the cosmos forever!
IS THIS ALL CORNFUSING? EH? Proly is, advice most eagerly sought from real sensible busyness tycoons. Y'all could syndicate my lame brain, better hurry, ain't gettin any younger. We'd all be filthy rich FOREVER, if there is forever.
Anyways, in any case do c'mon back--ol Koot Kent here will change the toons amost-daily unless there ain't nuthin sic and funny happnin anymore. Give me an email prod if I forget, gettin senile.
Sigh, enough said, Kent Steadman, Editor:
ORBIT MAIN (if you haven't wandered the magic ORBIT vault-o-wonders yet, hang on to your hat)
Counter ..
.