FALLON VORTEX
UPDATE:

Subj: fallon is burning a hole again

Date: 12/24/01 7:56:45 PM Pacific Standard Time

Scan my attachments please. This loop is not the best example..but the loop from earlier today was very reminicent of one year ago. It is "on" again.
UPDATE: In November 2000 we saw a mysterious ring over Reno-Fallon. Weeks later it is still there. Have the wizards opened a portal that they cannot close? Watch for yourself, day after day.
| | | |
| --- | --- | --- |
| 11/21/00 | 1/31/01 | THE FALLON VORTEX |
| | | 11/23/00 FALLON NAS: The proposed changes would allow the Navy to update and consolidate Navy training on public and Navy-administered lands and to update existing airspace overlying these lands. Changes include developing new fixed and mobile electronic warfare (EW) sites |
Date: 2/2/01 4:05:49 AM Pacific Standard Time
Check out Quaternions vs. Electromagnetic Theory
Quaternion theory (invented in1843 by William Hamilton) incorporates both vector and scalar parts. Current Electromagnetic Theory, as promulgatedby Maxwell, contains only vector part. Scalar part has been ignored for over a century. See some experiments that are working with the scalar part

FALLON RENO NEVADA RADIATION RENO NEVADA RADIATION RING
11/21/00 RADAR RINGS & EM ENVIRONMENT
UPDATE: NEVADA BEAMS NEVADA & UTAH TRISECTING BEAMS OVER MILITARY TEST AREAS
Town baffled by rash of childhood cancer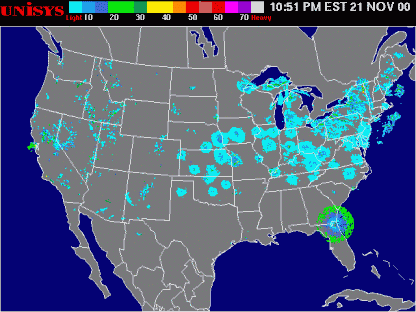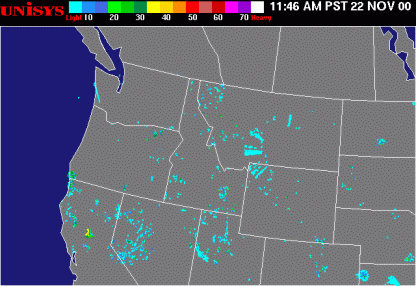 ADDITIONAL FALLON RADAR IMAGES
Fallon Light Beam
Date: 7/27/01 11:55:18 PM Pacific Daylight Time
Hi Kent, Last spring I was up near Fallon Navel Base visitin an adjacent Native petroglyph site, Hidden Cave. In the pic you've linked at http://www.aechelon.com/products/imagery/images/fallon.jpg I'd say I was atop the brown foothill dead center. So I 'd climbed up to see more of the base, which you can see in the distance at the bottom right of my pic. Anyway after I developed some shots looking toward the base I see this one where a light beam eminates down from the sun (?), and where it meets eye level you can see it against the rocks, a definite pysical image, but of what I'm not sure, two vortexes seem visible in it. It was a clear, hot cloudless day. The black spots visible are just dust from the scanner.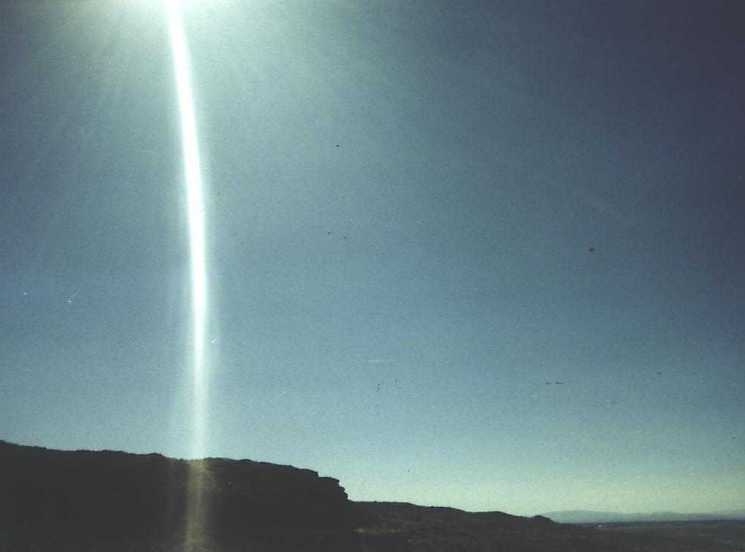 ENERGY CHARTS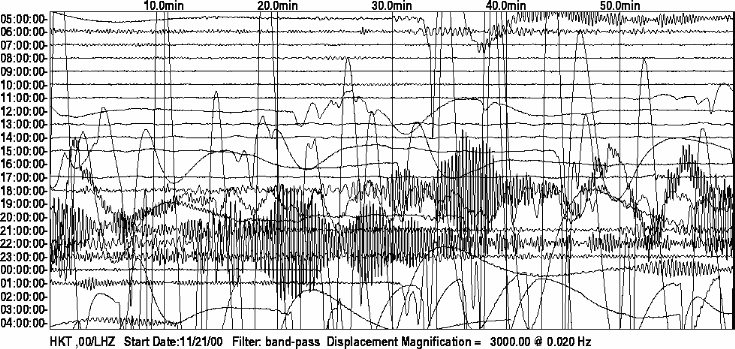 OTHER CONCURRENT RINGS