SOLAR EVENT REVIEW
| | |
| --- | --- |
| | WILL THE ENERGY FEED GEORGES? |
Xray Flux and Satellite Environment still-images of recent major solar event are now posted (below) for review. Auto updated charts are available here: New events of magnitude will be brought up front here to main page. Please click through for other investigations: Earlier archives:

(left) Next region of interest now dawning in southern hemisphere, Sol.

IS SOL SHOWING A MONTHLY STORM CYCLE?.

8340 on approach

TOP-LEFT REGION, 8340: IMAGED BY TRACE

AWESOME TRACE ANIMATION

H-Alpha image of Region 8340j, 98/09/23 at 09:07 Learmonth, Australia

YOHKOH: MPEG MPEG2 LATEST STILL

EARTH CURRENTS: DATA FROM ELFRAD

This Solar event is a big one. We measured the strength in volts rather than millivolts!
Magnetometer LOW solar influences EXTREME

Earth drops her shields!

Animation: 10/24/98 10:58 PM PST

.

AUTO-UPDATED HAARP FLUXGATE MAGNETOMETER CHART

HAARP RECENT ANIMATION

Latest Magnetograms from Tromsø, Andøya, Longyearbyen, Ny Ålesund


Proton Flux... Electron Flux... Magnetometer .. Kp Index
HEIGHT OF STORM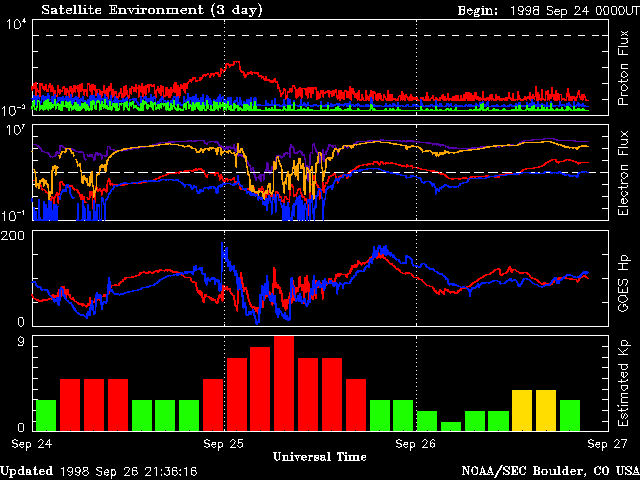 TRIGGERING FLARE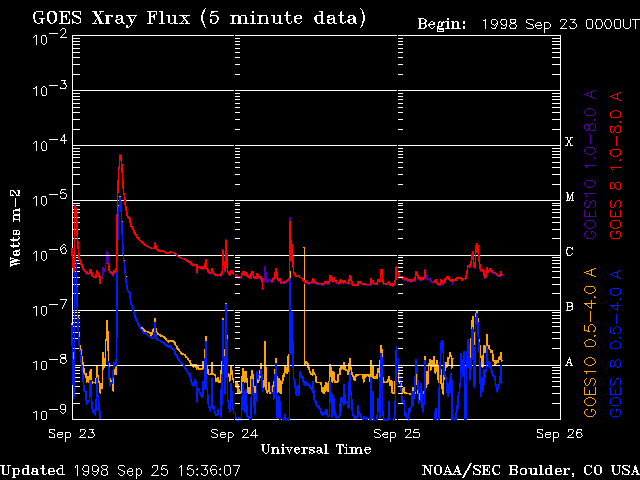 EDITOR'S NOTE: observing strange surge in Kp Index, two days before predicted, are events overlapping (see image for m-class flare, 10/20), or is something mysterious happening? In any case NASA forecasts have been way off target!

PROTON STORM ANIMATION
Are we beginning to see the unimaginable, the multi-dimensional world of energy and magnetics, ethereal dialogues between the sun, moon, earth, the galactic entities--and a presumptuous interference by man?
.

WELL-POSITIONED POWERFUL LONG DURATION M-CLASS FLARE
Long Duration M7 Flare Occurs 09.23.98 1300 UTC
At 0640 UTC this morning [240 EDT], a long duration M7 Class flare event began. The event lasted nearly an hour and was accompanied by strong radio bursts and sweeps indicating a coronal mass ejection [CME] likely occurred as well.
A flare of this strength was rather unexpected by the SEC as the statistical probabilities forecasts for major flares was very low. There was also a C9 [threshold M-Class] event around midnight UTC last night.
If the M-Class event generated an Earth directed CME, the energy would likely impact our magnetic field between the 26th and 28th, depending on the trajectory and speed of the ejection.
Magnetic Storm Watches Issued 09.24.98 1200 UTC
Magnetic storm watches have been issued by the SEC [Space Environment Center] for September 24, 25, and 26. The watches for the 24th and 26th are for Magnetic-A Indices of greater than 20... and the watch for the 25th is for Magnetic-A Indices of greater than 30. These watches are likely in response to the very long duration M7 event that occurred early on the 23rd.
Solar/Magnetic/Quake Update - 9.25.98 2230 UTC
Solar flare activity was low today with only two C-Class events reported. The forecast is for continued C-Class activity with only a small chance for M-Class events. There continue to be numerous active spotted regions on the visible solar disk.
The geomagnetic field went into severe storm conditions today at middle and high latitudes with planetary magnetism [PK] readings topping off the chart at "9." The GOES magnetometer readings were extremely volatile with readings dropping to near zero at times. According to NASA and the SEC, Magnetometer readings at or below zero can cause negative magnetism and highly variable magnetic fields at the satellite level. Magnetic-A Index readings for the day exceeded 50... qualifying this event as a major to severe magnetic storm event. Electron readings were highly volatile throughout the period. The Proton event which began yesterday peaked early today and continued in a slow decline. The SEC forecast is for continued active to minor storm conditions for the next 24 hours, and a continued magnetic storm watch is in effect through tomorrow.
The only new quake reported by the USGS was a 5.2 in eastern Ohio near the Pennsylvania border. I have not seen any news stories about this quake as of yet which is surprising because of the rated magnitude and very shallow depth. IMO, there is a high chance for enhanced seismic and volcanic activity until 18-24 hours after the planetary magnetism readings return to green levels.
Date UTC Mag Location
9/25 19:52 5.2 OHIO[near PA border]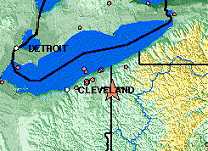 DETAILS: FULL GRAPHS, AURORA AND MORE

NEWSFLASH
SEPT 25 — ECRNEWS — EDGE OF SOLAR SYSTEM — PROBES VARY COURSE — The Los Alamos National Laboratory announced that 3 space probes, Pioneer-10, Pioneer-12, and the European Ulysses were pulled slightly off course on the fringes of the solar system. The cause remains a mystery.

NEW: ARE WE ABOUT TO BE SLAPPED BETWEEN THE EYES BY THE REAL COSMOS, WHICH IS DARK?.

GEORGES
HURRICANE GEORGES PUTS ON A LIGHT SHOW
Mother Nature treated hurricane researchers to a rare light show as they flew the last mission of the most ambitious hurricane study campaign in the Atlantic Ocean. Rarely seen lightning fields and purple sprites were detected in the eye of the hurricane by the ER-2 pilot as he flew more than 19.8 km (65,000 ft) above the Atlantic.
HURRICANE GEORGES SATELLITE LOOP

MORE ELECTRIC UNIVERSE
When planetary bodies travel sufficiently close to each other within a solar environment filled with charge-carrying plasma, sparks fly.