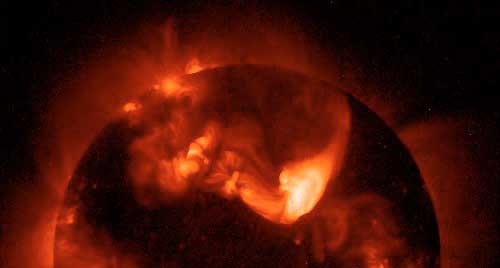 Above: CME from mid-June '98
GEOPHYSICAL ACTIVITY FORECAST: THE GEOMAGNETIC FIELD IS EXPECTED TO BE UNSETTLED TO ACTIVE FOR THE NEXT DAY OR SO. THE DISAPPEARANCE OF FILAMENTS IN THE SOUTHERN CENTRAL PORTION OF THE SUN MAY BE ASSOCIATED WITH CORONAL MASS EJECTIONS THAT COULD BRING ENHANCED ACTIVITY TO EARTH ON AUGUST 30 AND 31. . August 29, 1998 SEC Forecast .. EDITOR'S NOTE: will leave this alert on front page to Sept. 1, in the meantime be sure to investigate other back pages with current features.
And what rough beast its hour come round at last...
Netscape 800X600 (hit reload to update charts from recent visit)
PROTON STORM ANIMATION

HERE IT COMES

Please return for updates

Between 1200 UTC and 2400 UTC (August 26, 27), a major to severe solar storm is expected to affect the Earth. According to the SEC, the interplanetary shock wave's arrival could cause energetic particle levels to increase to 2-3 times their current values. Planetary magnetism [PK] readings will likely rise into the severe storm categories and highly variable magnetic fields could occur at satellite levels. The storm event should continue on into the 27th and then begin to dissipate thereafter. This is the type of storm event that ~could~ affect power grids, communications, GPS systems, etc.
.
August 27 12:27 AM EDT: Reuters News
WASHINGTON (Reuters) - Solar winds blowing at more than a million miles per hour hit the Earth's magnetic field on Wednesday, sparking what U.S. government scientists say could be a significant geomagnetic storm.
The U.S. Geological Survey said charged particles from a solar eruption hit the Earth's magnetic field around 3 a.m. EDT (0700GMT) and the resulting fluctuations in the field could cause power outages, satellite failures, disruption in communications and the aurora borealis.
Auroras are usually seen only in northern latitudes, but may become visible in the continental United States during this geomagnetic storm, the agency said.
While auroras are not as dramatic at mid-latitudes, they have been described in the past as resembling city lights in the sky, but in green, blue, and sometimes, red.
A severe magnetic storm in March 1989 caused the collapse of the Hydro-Quebec power system in Canada, leaving about six million people without power.
The U.S. Geological Survey operates 13 magnetic observatories throughout the United States, Alaska, Hawaii, Guam and Puerto Rico that continuously monitor the Earth's magnetic field.
AURORA: HLMS (Anchorage, Alaska) Recent Real-Time Plots


We will maintain this alert until Sept. 1 because of the strange analysis: 23:15 UTC on 26 August. Has the x-class flare hit us yet?
We are under the impression, based on available and current data, that the disturbance that commenced near 06:55 UTC on 26 August was the result of a grazing impact from the M9 solar flare associated coronal mass ejection of 22 August. It's entirely possible this disturbance was in fact from the X-class flare, but solar wind characteristics would seem to argue against this. So we are left to wonder whether we are still expecting to see the impact of the X-class flare disturbance, or whether what we are seeing now is the result of the X-class flare disturbance. It may still be too early to be certain.
The electron levels remain extremely high, in fact they are currently running ten times higher than the threshold for an electron event. Proton levels continue elevated and slowly declining. The magnetic field should continue to grow quieter. If a CME was associated with the DSF mentioned above, it could bring more active conditions to the geomagnetic field on the 30th and 31st.
KEEP WATCH FOR AUG 30, 31

PAST ANIMATED X-RAY FLUX (FLARES) FOR REFERENCE

X-CLASS FLARES FURTHER DATED BACK
| | | |
| --- | --- | --- |
| | Or has something been captured? | . |
.
Know we the flesh is fleeting. The things men count great are nothing to us. The things we seek are not of the body but are only the perfected state of the soul. Long, long ago, I cast off my body. Wandered I free through the vastness of ether, circled the angles that hold man in bondage. Know ye, O man, ye are only a spirit. The body is nothing. The Soul is the All. Let not your body be a fetter. Cast off the darkness and travel in Light. Cast off your body, O man, and be free, truly a Light that is ONE with the Light.
ECHO FROM AN ANCIENT VOICE


MORRISON: SOLAR WEATHER AND HUMAN EFFECTS SURVEY
Intense solar flares release very-high-energy particles that can be as injurious to humans as the low-energyradiation fromnuclear blasts.

ARE WE ABOUT TO LOSE ANOTHER SOLAR SPACECRAFT: HAS YOHKOH BEEN HIT?
SOLAR HURRICANE SEA HURRICANE
Solar hurricane will strike earth at the same time the sea hurricane will strike land
Do you find it unusual that Sun hurricanes and Earth hurricanes are overlapping?
Hey, haven't thought of that
And with last night's annular eclipse, I am expecting a major quake, probably in the Ring of Fire around the Pacific.

EDITOR'S NOTE: We usually bring this alert up as the ORBIT cover when solar activities start getting wild. The active region, 8282, is now retreating to the back side of the sun, but now region, 8307, is in view. So here we will stay.
Surfing For Sunbeams!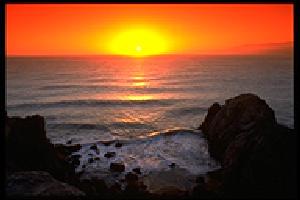 A Primer on the Space Environment
CURRENT SOLAR DATA
Solar/Magnetic/Quake Update - 8.17.98 2230 UTC
Flare activity increased more today. After a day of numerous C-Class events and an Xray baseline nearly at the C-Class threshold... late this afternoon an X1 class flare started. This event was too late to be included in today's SEC solar activity summary, however the region responsible was discussed extensively in today's summary and forecast. It is region 8282 which is returning around the approaching solar limb. It is large and very energetic and showing quite an impressive Xray signature. This region is expected to produce major flare activity. The statistical forecast probabilities had already been raised to 50% for M-Class, 25% for X-Class and 5% for Proton flares. These are among the highest forecast probabilities I have personally ever seen the SEC publish... especially before the first X-Class event had actually occurred.
The geomagnetic field was mostly quiet, in fact the magnetometer and electron flux readings are nearly flat. The field is expected to increase to unsettled to active levels tomorrow... and then to active to minor storm levels by the 19th or 20th in association with a coronal hole which is rotating into a favorable geoeffective position. Yesterday's long duration M3 and today's X1 event could also contribute to magnetic storm conditions in 48-96 hours.
Another X-Class flare during the night 8.18.98 1100 UTC
Another X-Class flare has occurred during the night [EDT] and early morning hours today. This events has been rated as an X2.8 by the SEC, and follows an M-Class event that occurred a few hours earlier and of course the X1 event late yesterday afternoon.
Two X-Class events and one M-Class event within less than twelve hours represents the tightest clustering of major flares I have seen yet. According to NASA and the SEC, these series of flares [rather than isolated flares] will become more common as we approach the Solar Maximum's peak during the next two years.
Yet another X-Class Flare 8.18.98 2245 UTC
Shortly after sending out todays solar-magnetic-quake bulletin, another X-Class flare event was recorded... it appears to be an X4 level event making it the largest of the [now] three X-Class events occurring in the past 24 hours.
Solar/Magnetic/Quake Update - 8.20.98 2230 UTC
Flare activity during the past 24 hours continued at high levels with an X4 late yesterday being the greatest event. Numerous radio bursts and sweeps were observed indicating high speed [1400 km/sec] shock waves on the solar surface. Two new regions were numbered today, and the main active region responsible for the major flares has continued to rotate further onto the visible disk. M and X-Class activity is expected to continue with the probabilities for X-Class events having been raised to 40% for the next three days, and 15% for Proton flare events.
The geomagnetic field became unsettled to active and is forecast to remain active with some periods of minor storming at the higher latitudes for the next three days. Should major flare activity continue as forecast, once this region gets further onto the disk, CME and eruptive activity will be much more geoeffective and major to severe magnetic storm activity will likely follow.
Solar/Magnetic/Quake Update - 8.22.98 2230 UTC
Flare activity increased to high levels again with a threshold X-Class event late yesterday officially rated as an M9.3 by the SEC. Radio bursts and even moderate Gigahertz radio sweeps were generated by this major flare. Region 8037 is experiencing some growth again and is expected to continue to produce M- and X-Class flares for the next several days. Numerous strong C-Class events have also continued today. The probabilities have been increased back up to 80% for M-Class and 30% for X-Class events for the next three days.
The geomagnetic field became active to major storm during the night and morning hours. Planetary magnetism [PK] readings peaked at 6 [moderate storm - red] and were in the red/yellow zones for about nine hours total on average. Some high latitude locations experienced severe levels of magnetic storming during this event. The forecast is for continued active to possible minor storm conditions, increasing more on August 25th in association with a disturbance generated by the M9 flare event described earlier. Energetic Proton events have also become possible during the next three days should region 8037 generate additional major flares. Some enhancement of Proton levels has already been noted, although they have remained below "proton event" thresholds thus far.
Subj: X1 Class Flare in progress - 8.24.98 2245 UTC
Well, as fate would have it... no sooner did I send out today's solar update mentioning the decay of region 8037 and lo and behold it produces an X1 class flare within the past 15 minutes that is still ongoing. This X-Class flare could be quite significant because the region is in a more favorable or geoeffective position than when it produced them a few days ago.
Severe magnetic storm watches issued 8.25.98 2100 UTC
This afternoon the SEC has issued magnetic storm watches for both the 26th and 27th. These watches are for Magnetic-A Indices of greater than 50 which would be major to severe level magnetic storming. I have only seen the SEC issue magnetic storm watches for that level of storming on one other occasion in the past three years... most of the watches in 1998 so far have been for Magnetic-A Indices of greater than 20 or greater than 30.
These watches are probably in response to the extremely long duration X1 event that occurred last evening... also causing a very long duration and quite strong Proton event that is still ongoing this afternoon. This type of energy pattern generally indicates that a very strong disturbance was indeed generated. The region was also in a very geoeffective position when the flare was generated and any CME that resulted would most likely be Earth-directed.
Magnetic Storm Update - 8.27.98 1300 UTC
The major magnetic storm event continues and as predicted by the SEC has gotten more intense overnight and this morning. Planetary magnetism [PK] averages have now risen to 7-8 on the 0-9 scale representing severe levels of storming. We have been in the red [storm levels] for over 30 consecutive hours now. This is by far the longest continuous period of storm level readings that I have seen.
The Proton event continues as well with levels ever so slowly subsiding. Electron flux is very volatile and magnetometer readings at the GOES satellites are all over the place in a state of intense fluctuation. Another magnetic storm watch, although for lower levels of storming, has been issued for tomorrow indicating the SEC's belief that this disturbance will take another 24 hours to pass by Earth.
Solar/Magnetic/Quake Update - 8.28.98 2230 UTC
Flare activity was low today with only a few borderline C-Class events. The main region continues to decline, yet remains capable of an isolated M-Class event. The growing region continued to grow and become more complex suggesting C- and M-Class activity may soon be generated. Numerous small spots have emerged on the visible disk and a disappearing solar filament may indicate that a CME occurred.
The major-severe magnetic storm has finally abated for the most part. PK readings dropped into the green levels for the first time in around 36 hours. The electron levels remain extremely high, in fact they are currently running ten times higher than the threshold for an electron event. Proton levels continue elevated and slowly declining. The magnetic field should continue to grow quieter. If a CME was associated with the DSF mentioned above, it could bring more active conditions to the geomagnetic field on the 30th and 31st.
Solar/Magnetic/Quake Update - 8.30.98 2230 UTC
Flare activity increased today with three M-Class events. Two regions grew considerably and are becoming magnetically more complex. Additional M-Class events are likely and there is a fair chance for major flare events during the next three days.
The geomagnetic field was unsettled to active. The SEC forecast calls for continued unsettled to active conditions. The electron event continues unabated, and the Proton levels have almost returned to normal background levels.

Magnetic Storm Occurring 08/25/98

Magnetic Storm Occurring 08/06/98
Magnetic Storm Occurring 07/30/98
Magnetic Storm Occurring 07/23/98
Magnetic Storm Occurring 07/16/98

The Charlotte King Effect - Biological Earthquake Prediction

SYZYGY: An Earthquake Prediction Newsletter
JIM BERKLAND: Great unrest on earth and sun. Solar eclipse due 8/21/98 followed by another penumberal lunar eclipse on Sept 6.

Date: 98-08-19 22:36:34 EDT
KENT IT IS 10:10 AND IN THE LAST HOUR MY COMPASS (NEW ONE) HAS DROPPED 5-6 DEGREES, I HAVE CHECKED AND DOUBLE CHECKED IT AND IT HAS DEFINITELY DROPPED, THOUGHT YOU WOULD LIKE TO KNOW.. I HAVE BEEN CHECKING IT HOURLY.
Subj: vernon bc canada
Date: 98-08-21 22:36:34 EDT
From: (Kevin)
my silvi compass with a peep site now reads 3' movement since 17th aug
Date: 98-08-27 12:45:41 EDT
From: (Kevin)
My compass now reads that it has moved 2' since yesterday morning
Date: 98-08-28 18:15:47 EDT
From: (Kevin)
from 2' W yesterday to 1' W last night
and back to 2' this hour
Date: 98-08-30 05:28:16 EDT
From: Kevin
Moved from 2'W at 12:00 PST to 3' E at 23:08 PST
EDITOR'S NOTE: We have received the following correspondences and prior research, but cannot vouch for absolute evidence. We submit here for your discernment:
FUNDAMENTAL TRANSFORMATIONS?
A brief summary concerning the article : Review of the Study of the Rings of Saturn by the Academy For Future Science. (located on the net @ www.affs.org) This article details some of the reasons why there have been large scale anomalies found within the Magnetosphere of planetary ring formation around Saturn.
If you read it very carefully, it gives some direction how magnetism interrelates with gravity and how large scale Electromagnetic "bursts" are effecting the formation of new magnetic alignments, wavelengths, and field parameters. The reason these anomalies are discussed is because the changes in the magnetic density levels have a core relationship with greater changes taking place throughout the entire galaxy. more

RECENT EMAIL: TOP SECRET INFO
FWD: I received a snail-mail-letter today with highly classified information: NASA knows since quite a time affirmative, that a PLANET--not an asteroid--is crossing Earth-orbit in August, and they instructed all those knowing about, to shut their mouths (and computers).
EDITOR'S NOTE: The above prediction did not happen, but will leave post through August, as all hell is indeed breaking loose with the sun.

RECENT CROP CIRCLES: ARE WE BEING WARNED?

ANOMALIES REPORTED ON ART BELL: 98-08-18 10:00:44 EDT

MELTING GLACIERS COULD BE A BIG THREAT

NIBIRU

"WHAT IS APPROACHING US" Father Malachi Martin

PUFORI DREAMBOARD: THIS SUN IS ILL

FROM THE HEART OF THE SUN

ANGELS IN SPACE
ARE WE ABOUT TO BE SLAPPED BETWEEN THE EYES BY THE REAL COSMOS: DARK AND BEYOND PERCEPTION?