IS SOMEONE TRYING TO TELL US SOMETHING?
Subj: Tohight' Lasco anomalies - Part 1
Date: 1/2/00 6:22:58 PM Pacific Standard Time
Kent: Attached is what appears to be a very long streak across this C3 image. Normally these are explained away as cosmic rays saturating the CCD sensors on the camera.
In this case the streak goes behind the pedestal that holds the occultation disk on the Lasco Tube. CCD saturation would have produced a streak that would appear to go in front of the pedestal (be visible across the pedestal) instead of behind it.
It would appear that some natural event generated this image.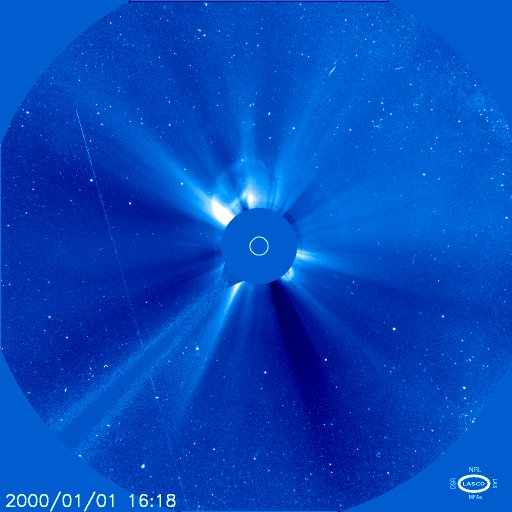 Subj: solar anomalies - Part 2 - Cruiser
Date: 1/2/00 6:28:14 PM Pacific Standard Time
Here's our friend again, showing up on 1/1/2000 at 10:42 UTC. No stars or planets for this location. Showed up in single frame. Notice the "swarm" around it.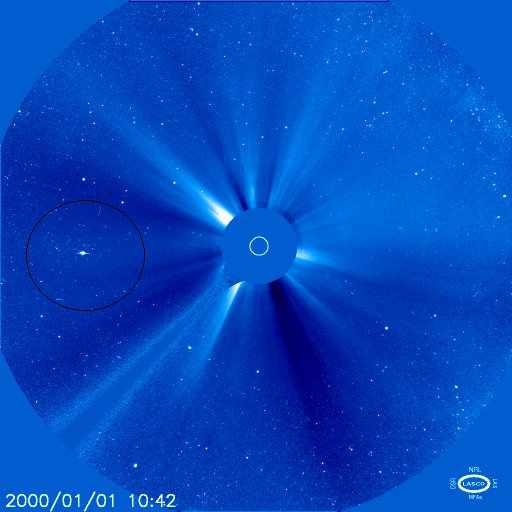 Subj: Solar Anomalies - Part 3 - Cruiser / Edit
Date: 1/2/00 6:42:20 PM Pacific Standard Time
This image from 1/1/00 shows what could be a cruiser at the suns 3 o'clock position.
Additionally at the sun's twelve o'clock is what appears to be another edit type of anomaly.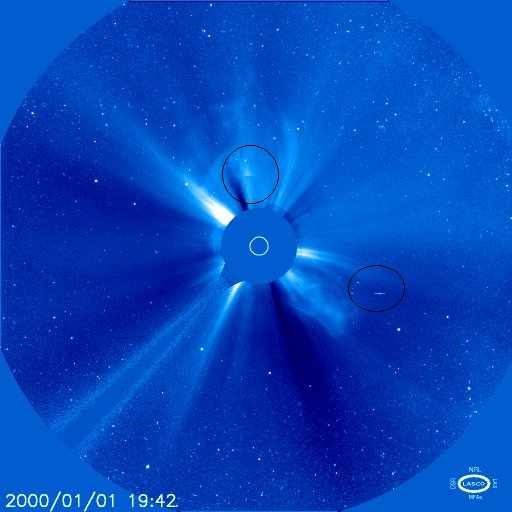 DISTINQUISHING PLANET FROM ANOMALY
MERCURY Approaches the sun from the west