Subj: STOP PRESSES - READ NOW SOHO SMOKING GUN

Explanations of the ORCA EFFECT:

1. Since 8/15/00 at 22:18 the SOHO Lasco C3 images have shown an odd
effect every six hours through the present. This effect is called ORCA
after the name given it by the Millennium Group in 1998.

2. Image ORCA_A shows what is happening to these images. The Lasco C3 is
being help on TARGET (the sun) for 5.1 seconds and then swung in a
direction of 30 degrees/solar disk ( 2 o'clock on solar disk) or in a
northeasterly direction, away from the sun. It is being re-targeted to
an area beyond Mercury (otherwise there would be two images of Mercury
on these frames).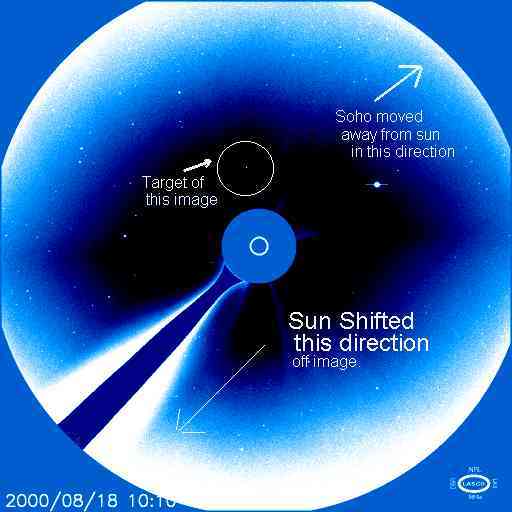 3. Look at image N18_1618. This is a standard NAVY C3 image. No its not.
The exposure time is only 5.1 seconds. Normally it would be 19.1
seconds. Now look at image 18_1618o. This is the NASA image. Notice that
they are totally different. Why?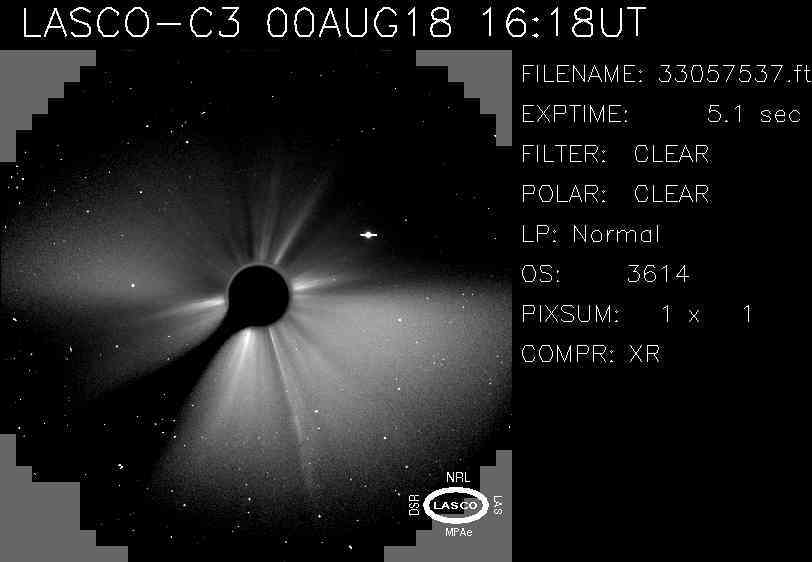 4. The answer is the image is held on a time exposure of 5.1 seconds of
5.1 seconds to capture and burn in the usual images and then SOHO is
swung out in a direction of 30 degrees to target and capture something
else.

5. The flare effect around these so called ORCA images is the sun, now
off to the lower left, leaking intense light into the imaging tube, but
Lasco is pointed elsewhere.

6. Look at the remaining images attached.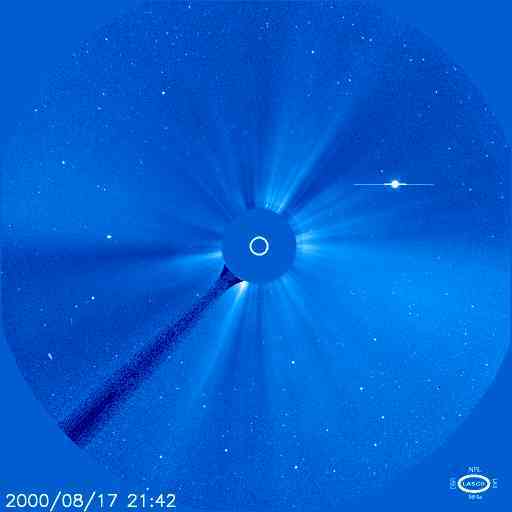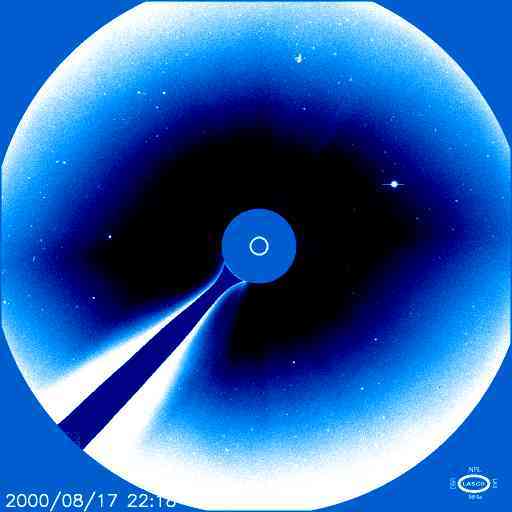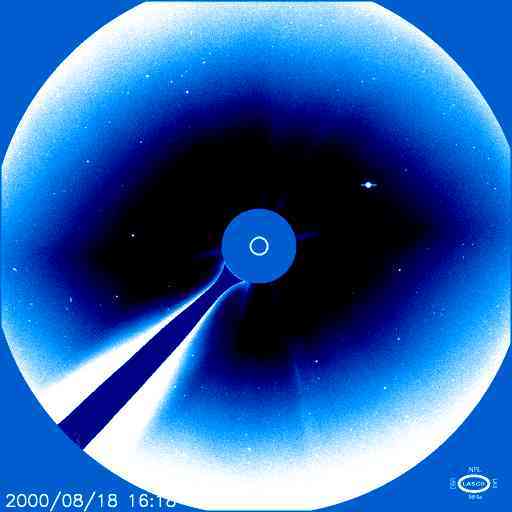 7. NASA is looking for something. What I don't know. They cannot use
Hubble, because the intense sunlight would damage Hubble's imagers, so
they are using SOHO to find and image IT because SOHO is out there and
its all we have. What it is I do not know, although the six hour
intervals may be a clue.

FOLKS THIS IS A MAJOR SMOKING GUN. THE NASA IMAGES AT 4:18 10:10 16:18
AND 22:18 SHOW THE ORCA EFFECT, WHILE THE NAVY IMAGES FOR THE EXACT SAME
TIME DO NOT!

As many of you that can, please do the following:
Download these C3 images:

8./15 22:18
8/16 4:18
8/16 10:10
8/16 16:18
8/16 22:18
8/17 4:18
8/17 10:10
8/17 16:18
8/17 22:18
8/18 4:18 is missing
8/18 10:10
8/18 16:18
8/18 22:18 missing
Now, download the images immediately before and after each I have
listed. Compare the images. Note that there will be STARS that appear in
the ORCA images that do not show up in the prior or following images.
Try to find the REAL TARGET.

Kent, I have a bad feeling that NASA is trying to image something to
figure out its trajectory.

The Fact that the NASA images do not match the Navy images tells a
strange tale.

THIS IS VERY IMPORTANT, ALL SHOULD EXPLORE AND ASK QUESTIONS.

Thanks for letting me rant.

DF






----------------------- Headers --------------------------------
Return-Path:
Received: from rly-ye03.mx.aol.com (rly-ye03.mail.aol.com [172.18.151.200]) by air-ye03.mx.aol.com (v75_b3.11) with ESMTP; Sat, 19 Aug 2000 01:13:35 -0400
Received: from mail2.iadfw.net (mail2.iadfw.net [206.66.12.234]) by rly-ye03.mx.aol.com (v75_b3.9) with ESMTP; Sat, 19 Aug 2000 01:12:58 -0400
Received: from pdq.net from [209.144.24.214] by mail2.iadfw.net
(/\##/\ Smail3.1.30.16 #30.11) with esmtp for sender:
id ; Sat, 19 Aug 2000 00:13:00 -0500 (CDT)
Message-ID: <399E13EA.E351628C@pdq.net>
Date: Fri, 18 Aug 2000 23:58:18 -0500
From: David Foster Fucich
X-Mailer: Mozilla 4.7 [en] (Win98; I)
X-Accept-Language: en
MIME-Version: 1.0
To: bardsquill@aol.com
Subject: STOP PRESSES - READ NOW SOHO SMOKING GUN
Content-Type: multipart/mixed;
boundary="------------C8D20114743D03758BF93905"