Alaska Airlines Flight 261 MD-83, MD 80 series, Preliminary Data
Hoffman, Others Threatened Over Pt. Mugu Photos!

More CRUCIAL Questions On Fl. 261 Crash

Spook Effort to Squash Our Fl. 261 Info//NSA Tips Hand On Truth of NewsHawk Fl. 261 Articles
(2/21/00 ANOTHER) MD-80 makes emergency landing

Navy's Pt. Mugu Missile Weapons Systems/Fwd

NEWSHAWK, HILDER KEEP ON GOING: 261 CRASH--IT DEFIES ALL LOGIC//URGENT!!

FLASH: THE AWESOME ANTHONY HILDER INVESTIGATION. IMAGES!
EDITOR'S NOTE: Hilder mentioned seeing at Pt. Magu towers with spheres on top. Tesla towers? Something else?


Information on Fl. 261 & Pt Mugu Naval Air Warfare Station

Questions multiplying rapidly re: 261
SLEUTHS: Alaska Air Personnel, give us an inside on this please. We will keep you Anonymous!

BOWING OUT OF INVESTIGATION, FOLLOWING LEAD OF NEWSHAWK
Two of the longest-term and most trusted sources I have relayed a message to me yesterday.

It was pretty simple. I was informed that much of the material we've published on the Alaska Airlines Fl. 261 crash had gotten certain people or groups of people extremely pissed off--to the point where it could conceivably lead to some sort of activity being directed my which could be somewhat ... unpleasant, let's say. Maybe even more than unpleasant.
Kent's Komments: Would you military-industrial poohbahs please leave us alone! Good grief, if we must run a silly Neanderthal merchant-warrior society, then for chrissakes go play at it somewhere else. Seems like when peaceful times come around the techno-brassholes decide to start testing their ring-tailed gismos and contraptions at home. Nowadays the new fun toys are electronic in nature, ECHALON, EWAR, Blue Beam etc. So, you woosy Buccaneers, go stand in front of the battlefied, or your locker-room mirror. Pulse yourselves, not us!


Tesla (HAARP) Towers @ Navy China Lake Center
Last week, CNN showed a photograph taken by a witness on the beach who was
taking pictures of the sunset. She captured an image of the aircraft
(apparently inverted) as it descended toward the Pacific Ocean. Mr. Prukop
states "And it is impossible to tell if some tail components
of FLT 261 were missing in the fuzzy picture that's been circulated by the
media." I disagree with this assessment of the photograph. continue
Anchorage, Jan. 31- It's now known that at least five Alaskans were on the Alaska Airlines plane that crashed off the California coast Monday, including a well respected Native leader, along with a former lawmaker's son.

Former Doyon president Morris Thompson, his wife, Thelma, and their daughter were also among the 83 passengers and five crewmembers onboard. Thompson, 61, recently retired as head of the Interior regional Native corporation. He was at the helm of Doyon since 1985.

With the land entitlement of 12.5 million acres, Doyon is the largest private landowner in North America

VIRTUAL TOURS OF HAARP
QUAKES:
2.5 2000/02/01 02:22:46 34.004N 116.310W 0.7 15 km ( 9 mi) S of Joshua Tree, CA
00/01/31 22:00:12 34.36N 116.14W 0.6 3.6Ml SOUTHERN CALIFORNIA
2.2 2000/01/31 15:44:53 34.368N 116.144W 0.3 27 km (17 mi) NNW of Twentynine Palms, CA
3.6 2000/01/31 14:00:12 34.363N 116.136W 0.5 26 km (16 mi) NNW of Twentynine Palms, CA
(NOTE: depths 0.7, 0.3, 0.6, 0.5, telltale spoor of high energy Physics? Have we seen these signs before?)

EMAIL, 2/2/00 2:05:20 PM Pacific Standard Time: Check the frequency of little quakes BEFORE and AFTER the Alaska Airlines reported difficulties & crash. May be nothing. Just passing it along so it won't get lost in case it is worth further pondering.
.

ANOMALOUS IMAGES: Weather Anomaly At Alaska Airlines Crash Site?

WINGATE: This is a GOES-10 satellite image animation I made from images around the time of the crash, at 00:30 UT when the accident occurred. You may notice a weather anomaly coming from the west, south of Vandenberg AFB. The crash occurred just east of the three islands, west of Point Mugu.

KASTEN: One of the factors not mentioned in any report - mainstream media or on-line- is the fact that Point Mugu/Oxnard area is the location of Port Hueneme which was designated by Pres. Ronald Reagan as a "star wars" base (none of which is mentioned or located on a map in the news reports). This is the base on which the weaponry of the "future" is supposed to be located. Point Mugu, of course, is one of the western locations of the technology which is suppose to protect the western coast of the United States from in-coming attacks.
1/31/00 23:40
RESEARCH ALL TIME PERIODS 1/31/00
SLEUTHS: An Alaska Airlines MD-80 carrying 80 passengers and five crew members crashed Monday afternoon in the ocean about 20 miles northwest of Los Angeles, according to an Alaska Airlines spokesman. Please check all data resources. The flight had been scheduled to arrive in San Francisco at about 5:40 p.m.
Alaska Airlines Flight 261 left Puerto Vallarta, Mexico, for San Francisco on Monday afternoon. Its pilot reported problems with the plane's stabilizer trim and was diverting the airliner to Los Angeles before the crash, Alaska Airlines spokesman Jack Evans said.
The jet disappeared from air traffic control screens at 4:36 p.m. PST (7:36 p.m. EST), he said. A federal park ranger on an island saw the crash and told investigators the jet dived nose-first into the Pacific, a National Park Service spokeswoman said.
WHY DIDN'T FLIGHT 261 JUST....LAND?
Fl. 261 was only several miles away from the runways at Pt. Mugu--in fact, the runways would have been CLEARLY visible from the jet at 17,000 feet, if by some incredible lapse of knowledge the pilots were not aware of their existence. continue
Except at joint airfields, United States Army, Air Force, Navy, Marine Corps, and Coast Guard airfields are available for use by civil aircraft only with prior permission or in an emergency.
Military instrument approach chart for Point Mugu NAWS which has a 11,100ft NE/SW main runway. (Chart Date Dec/92 Valid to Jan 93)

Subj: Point Mugu
Date: 2/2/00 8:08:01 PM Pacific Standard Time

Thought you might be interested in the attached. One of my old approach plates for Point Mugu. Its main runway (11,100ft) is plenty large enough to take even the biggest aircraft.

FWIW, a trim problem (say runaway trim) is usually manageable and is a regular scenario for which airline crews are well trained. This may explain why the aircraft initially elected for nearby LAX, where repairs could be arranged and/or alternate travel arranged for the passengers.


It almost seems that things went to hell-in-a-handbasket shortly after that for some inexplicable reason. Certainly the crew would have made for Point Mugu NAWS if the circumstances had then been dire and Point Mugu would have rendered all assistance without a second thought.

Note also another MD-80 just today experienced a trim emergency but landed without incident. Watch for immediate FAA action re the MD80.

Shrews
NEWSHAWK: WAS 261 ICED?
We were also advised as follows by a NewsHawk respondent: 'Alaska Air was very forthcoming about their flight upkeep and condition, that is until the national government types got to their president. Then he clammed up almost totally.

'He DID, however, say one thing upon arriving in Los Angeles: that he "knew a great deal more about the events surrounding the crash," but couldn't talk about them.

'Sounds like he wanted to.....badly.'
NEWSHAWK: Conflict: stated times of Fl. 261 voice box recovery/NAVY SHIPS IN CRASH VICINITY; DoD News Briefing
[synchronistic] Alaska Airlines Flight 261


LUCAS: Loud Noise Recorded Before Crash
PORT HUENEME, Calif. (AP) -- The cockpit recorder aboard Alaska Airlines Flight 261 captured a loud noise just before the MD-83 went out of control and plunged into the ocean, a federal investigator said Friday.
The noise was one of two captured by the cockpit voice recorder, said John Hammerschmidt, a member of the National Transportation Safety Board.
Only four bodies have been recovered. Relatives waited for word on further efforts to bring back remains.

NEWSHAWK: Fl 261 Update--Lies, Cover-up Disintegrating

A Pilots's Analysis of Fl. 261 Crash
LUCAS: Alaska Airlines Retires 'Flight 261' - Bizarre Coincidence?
"A Pilot's Analysis of the Flight 261 Crash", mentioned that Flight 261 had no problems until it reached the vicinity of Point Mugu, Restricted Area R-2519, and Warning Area W-289.
Three days after the crash, Alaska Airlines retired the number of Flight 261 and renamed it Flight 289.
Why did Alaska Airlines choose the number 289. My thought is that perhaps the CEO, or whoever chose the number, wants to tell whoever has ears to hear, that he doesn't believe the stabilizer was the cause of the crash and that whatever was going on in or near Warning Area W-289 was the cause of the crash...I just think it IS a bizzare coincidence that the number 289 was chosen as opposed to some other number.

ANOTHER Alaska Jet Has Emergency Landing in San Francisco
Date: 2/8/00 11:25:43 AM Pacific Standard Time
SAN FRANCISCO (Reuters) - An Alaska Airlines MD-80 jet made an emergency landing minutes after takeoff from San Francisco International Airport on Monday when the control tower noticed sparks streaming from its tail, an airport official said.
The Mysteries of EgyptAir 990, TWA 800, and Alaska Airlines 261
The mystery with which the U.S. press has attempted to lull American citizens on the events surrounding the crashes of TWA 800, Swissair 111, JFK Jr's plane, Egyptair 990, Silk Air, Alaska Airlines 261 and Kenyan Airlines is a remarkable activity to behold......

FLASH RADAR: 1/31/00 12 HOUR SATELLITE LOOP

ODD NEVADA RADAR SEEN SUDDENLY LAST FEW DAYS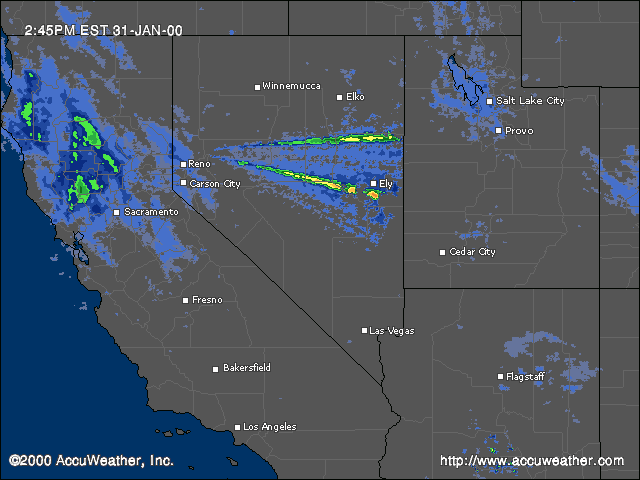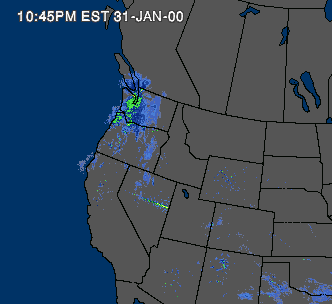 | | |
| --- | --- |
| 2/3/00 | EMAIL, 2/2/00 10:26:37 PM Pacific Standard Time: Hi Kent, just an observation. In looking at the map of the odd radar of Nevada on the Flight 261 link, that it emanates from the area of Fallon NAVAL Base. |
RENO
Alaska Airlines jet returns to airport after pilot reports stabilizer problem
February 6, 2000 Web posted at: 3:04 a.m. EST (0804 GMT) RENO, Nevada (CNN) -- An Alaska Airlines flight bound for Seattle, Washington, from Reno, Nevada, returned to the Reno-Tahoe International Airport late Saturday after the pilot reported intermittent problems with its primary and secondary trim motors.
Tactical High Energy Laser (THEL)

Private boats blocked from Alaskan Airlines search
Date: 2/2/00 7:40:49 AM Pacific Standard Time
From: hblondel@tampabay.rr.com (New Millennium)

Here is an excerpt from a news article from today stating that private boats that had been participating in the search for survivors from the Alaskan Airlines crash are being blocked by the government.

MANY NEWS SITES: Alaska Airlines 261
POWER OUTTAGE
Subj: FW: received
Date: 1/31/00 8:06:30 PM Pacific Standard Time
From: jking@treko.net.au (jking)
Thought you all should read this. Anyone know if there is a facility in that area?......Love......Sis/Julie
Sent: Tuesday, February 01, 2000 3:42 AM
To: *Julie King
Subject: received
Julie. Got your e-mail. Spokane just had a big power outage, lost the phones at the same time. Was just a short outage 10 mins. This is not a good sign, could be y2k showing up, or ITS TIME to shut us down.
1/31/00 7:36:48 PM Pacific Standard Time, flash@toledolink.com writes:
KENT -- TIME WOULD BE 23:00Z STANFORD SERVER IS MISSING 23:00Z -- NO OTHER RADAR THAT I HAVE FOUND -- WILL POST ALERT-- FLASHdp
http://squall.sfsu.edu/scripts/usradni.html
Subj: Alaska Airlines
Date: 1/31/00 9:57:31 PM Pacific Standard Time
From: wes@matnet.com (Wesley Lutes)
To: bardsquill@aol.com (orbit)
Kent.
We are praying for the passengers, crew and family of all on the flight.............
Info on my page as I get it.......................
Wes
Wasilla, Alaska. Clues to the Unknown
SIGHTINGS
The Navy was launching several boat-to-air missiles EXACTLY at this time(4:25-4:40). They were off the coast of the Ventura Harbor. (Much further North than usual for this activity...which I've witnessed in the past.)
TAKEOVER AT PINE RIDGE

FLASH RADAR: ELECTROMAGNETIC DISTURBANCES OVER PINE RIDGE MORE IMAGES

The Transmission of Wave through Dense media -- Reflection and Refraction Bearden