| | | |
| --- | --- | --- |
| GABRIEL'S HORN | | |
SOLAR EVENT 10/7
EDITOR'S NOTE: when an energy phenomenon is generated by the sun or some other source in space (or on earth) our planetary geosphere begins to generate an electromagnetic pulse. Think of a resonance transmitted to produce a sympathetic ring like a sound broadcast toward the strings of an open piano.
With ELFRAD'S new audio equipment we can now hear, as the burst resounds, this EMP transposed into sound.
Charlie Plyler and his ELFRAD Group are pioneering this research. Please contact him if you think you can assist in this amazing quest.
CHARLIE ADDS: The expanded magnetic flux lines which circle the earth, all come together concentrated at the poles of the earth and flow through the planet in a compressed form. This generates a current when passing through the conductance paths of the earth. This in turn sets up resonances in the various cavities which can be detected as voltage transients.
Kent:
This is a look at the voltage generated through the earth during today's Solar event. 1200HRS to 1800HRS UTC 10/07/1998
The audio clip was taken at the peak of the activity. The burst is quite evident.
Charlie Plyler
LISTEN TO THE AUDIO OF THE RAW EMP BURST (.au format)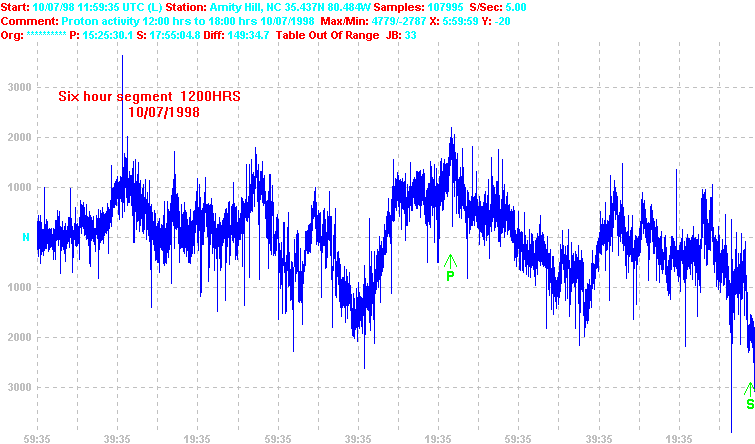 THE SOLARFLARE
EFFECTS OF FLARE ON GEOSPHERE
EDITOR: SOUND EXPLORATIONS WITH COOL EDIT
EDITING AND FILTERING OF THE SOUND
FILTERED AUDIO CLIP (NOISE REDUCTION)
BACKGROUND FREQUENCY "THE VOICE OF EARTH"
(Slightly sharp of low "G")
THE INCOMING FREQUENCY, "THE HORN"
(HARMONIC: slightly sharp of middle "G")
ADDITIONAL DATA ASSOCIATED WITH EVENT
AWESOME TRACE MPEG
Unexpected M-Class Event Occurs 10.07.98 1330 UTC

At approximately 1200 UTC [0800 EDT] this morning, and unexpected M1 class flare event occurred. The event was preceded by two C-Class events earlier in the morning [overnight.]

As of yesterday afternoon's SEC update and solar forecast, there was considered only a small chance of a C-Class event and pretty much no chance of an M-Class event occurring anytime in the next several days making this flare event very unexpected. NEW MILLENNIUM
ARTIST'S QUESTION:
A Question to Astronomers: In this recent outburst why is the K-index reacting immediately to these flares as indicated on the space weather charts? Usually there has been a two or three day delay. Quoted from SEC: Geomagnetic storms have been associated with satellite surface charging and increased atmospheric drag. Unlike the arrival of lighter protons and electrons, this drag-effect would indicate an arrival of heavier molecules tossed off by coronal mass ejecta. How can these "substances" arrive at the speed of light?
| | |
| --- | --- |
| | AN ARTIST'S DREAM: The legendary Gods hurled thunderbolts. What awesome events are echoed through mythology? |
KENT STEADMAN: GRAPHICS, SOUND FILTERING & SPECULATION
ORBIT