Subj: Anomaly
Date: 98-11-04 15:29:26 EST
From: ulf@elfrad.com (Elfrad Group)
To: Phikent@aol.com (Phikent@aol.com)
(Charlie: Been getting reports of High pitched ring by NY folk, really bad, driving them bonkers).
Kent:
The same pattern is again appearing as the one a few weeks ago, during the very unusual storm that was reported in NY. This time the bursts last for 11 minutes and 45 seconds at the frequency of 1.5 to 1.7 hz. The spacing in between bursts is approximately 20 minutes, 30 seconds. The first chart is a six hour segment from 0600 to 1200 UT and the second chart is a two hour segment from 0700 to 0900 UT.
Will send info for 11/03 and 11/04 shortly.
Charlie Plyler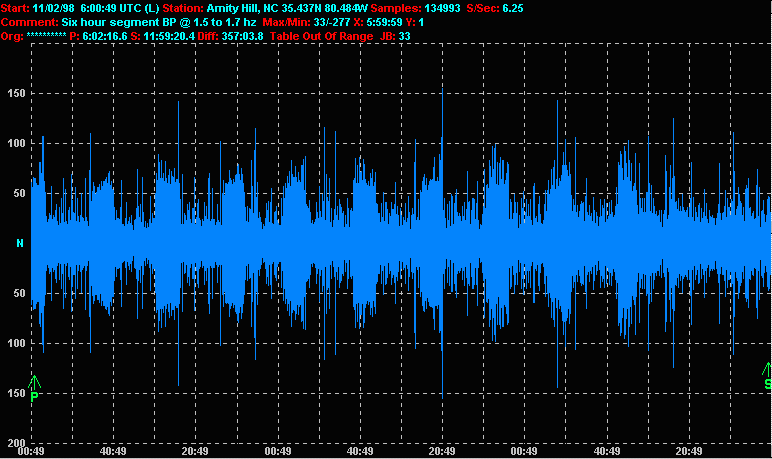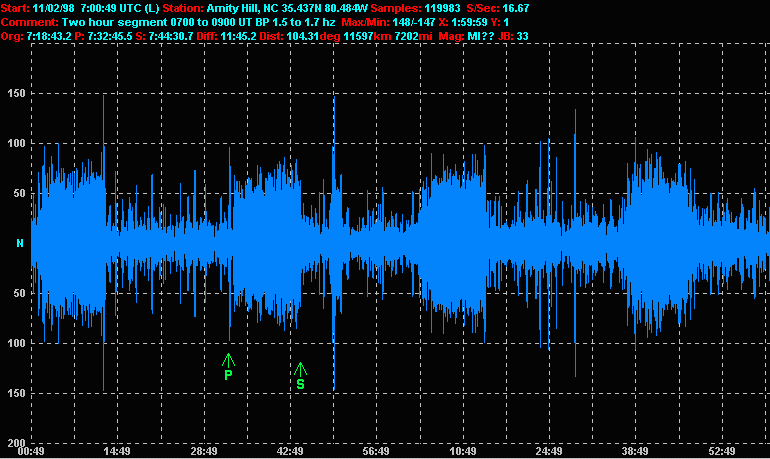 Subj: NY? Update
Date: 98-11-04 17:04:36 EST
From: ulf@elfrad.com (Elfrad Group)
To: Phikent@aol.com (Phikent@aol.com)
Kent:
The same pattern emerges on 11/03 except that the frequency is rising. This burst indicates a center frequency of 1.8 hz. The pulse width is around 10 seconds with 20 to 25 second spacing. ET1103b.gif captures a one minute segment of the burst. Note the variation of the frequency. FM modulation? This data is filtered to eliminate all frequencies above 1.85 and below 1.75 hz.
ET1103c.gif is filtered to remove all frequencies above .1 hz and shows a very active start of a possible magnetic storm.
Charlie Plyler