Subj: New Signal
Date: 98-10-31 16:54:55 EST
From: ulf@elfrad.com (Elfrad Group)
To: Phikent@aol.com (Phikent@aol.com)
Kent:
Walked in and looked at monitor. Receiving signals like I have never seen. Short bursts continously. Will send them to you as soon as I have them compiled.
Charlie
Subj: Tesla Coil?
Date: 98-10-31 17:40:17 EST
From: ulf@elfrad.com (Elfrad Group)
To: Phikent@aol.com (Phikent@aol.com)
Kent:
Perhaps we have a handle on this one. The signal is broad spectrum like a spark gap transmitter. A large Tesla coil could be the culprit. Come to think of it...Saturday night and Halloween would be a good time. Signal was strong from 2100 to 2200 UT and then abruptly stopped. HW1031b.gif is an expanded shot.
Charlie
Elfrad Group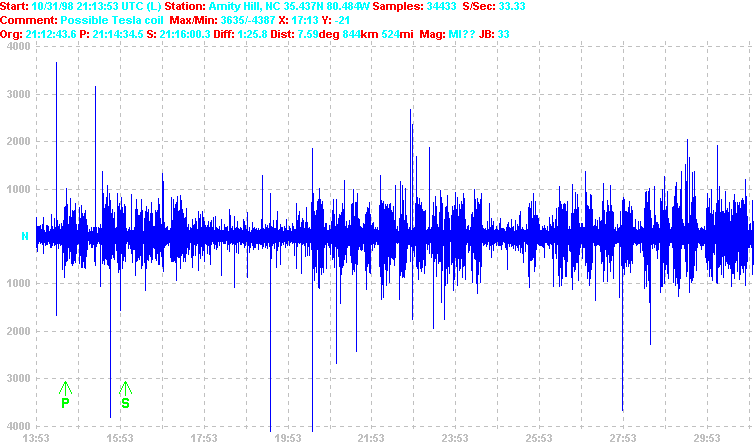 HW1031b.gif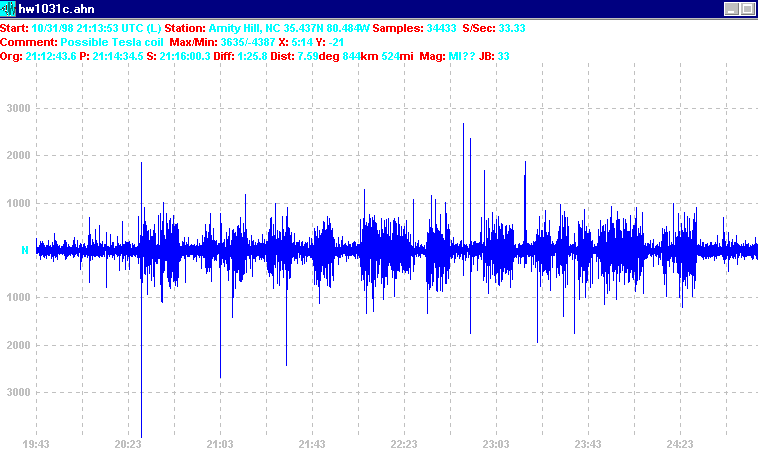 Subj: Re: New Signal
Date: 98-10-31 18:25:22 EST
From: Phikent
To: ulf@elfrad.com
Been watching a radar anomaly on upper state NY-Vermont border:
Kent