ORBIT ALERT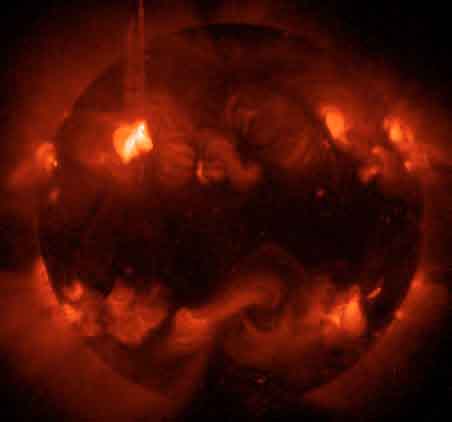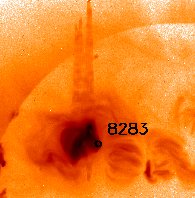 NEW MAGNETIC STORM

BEGINNING OF STORM: YOHKOH 07/30/98 7:00 PM PST

.
ARE VULCAN AND SOL ON THE COSMIC TELEGRAPH?

MAMMOTH CATCHES THE WAVES
4.3 98/08/02 07:45:45 37.57N 118.80W 6.9 6 mi W of TOMS PLACE
3.0 98/08/01 20:32:50 37.58N 118.80W 3.2 7 mi W of TOMS PLACE
4.3 98/07/31 23:01:43 37.57N 118.79W 6.3 6 mi W of TOMS PLACE
4.3 98/07/31 23:01:40 37.57N 118.79W 4.1 6 mi W of TOMS PLACE
.

NEW MILLENIUM As of this bulletin the GOES satellite magnetometer reading is at 180 on the scale of 0 to 200. This represents the highest magnetometer reading I have seen in the three years I have been monitoring these graphs.
This tremendously high reading is almost certainly associated with the event that is causing the strong geomagnetic storm that began last night and is continuing today.

URL for the magnetometer readings

Does anyone besides myself think that the magnetometer (third row) looks almost of--unnatural cadence?

FOR A CROSS-REFERENCE SEE: THE SIGNAL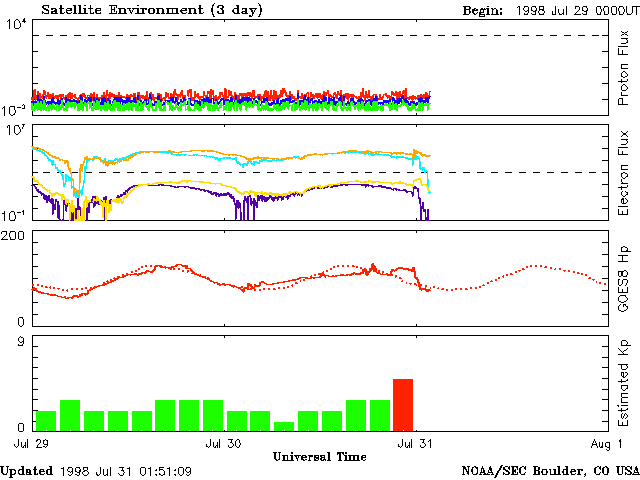 Magnetic Storm Occurring 07.23.98
Magnetic Storm Occurring 07.16.98

The Charlotte King Effect - Biological Earthquake Prediction

SYZYGY: An Earthquake Prediction Newsletter

Date: 98-08-01 11:58:03 EDT
Magnetometer readings skyrocket again 8.01.98
Whatever is causing the extremely high magnetometer readings at satellite level, it is continuing again today. As of this bulletin, the readings are nearly off the top of the graph at 200 again.
The diurnal nature of the elevated readings is quite interesting. At night when the satellites are in the dark, the readings drop down to what the normal expected nightime readings are [bottom of the daily wave pattern] but when we are in maximal sunlight, they soar way above the normal daily peaks.
The planetary magnetism [PK] had dropped to "1" during the night, but has risen into the yellow [level 4] as the magnetism has increased today. The region around Mammoth Lakes is also seeing some swarming with 4 significant tremors reported in the past 12 hours, one of which was a 4.3 magnitude.
Anyone with an accurate compass, make a note of the exact location of magnetic North on your compass today. It would be quite interesting to hear if there have been any shifts in the precise magnetic North location. New Millennium
Date: 98-07-31 16:21:36 EDT
Kent as Berklands reading, my mounted ,cheap, compass has leveled at approximately a 5 degree to NE, after showing as much as 10 degree NE deviation shortly after I wrote you of the proton and electron readings. For the last year I have been watching changes in these readings. I am at C. 48N Lat by 110 W long. Leo

EDITOR'S NOTE: We have received the following correspondences and prior research, but cannot vouch for absolute evidence. We submit here for your discernment:
FUNDAMENTAL TRANSFORMATIONS?
A brief summary concerning the article : Review of the Study of the Rings of Saturn by the Academy For Future Science. (located on the net @ www.affs.org) This article details some of the reasons why there have been large scale anomolies found within the Magnetosphere of planetary ring formation around Saturn.
If you read it very carefully, it gives some direction how magnetism interrelates with gravity and how large scale Electromagnetic "bursts" are effecting the formation of new magnetic alignments, wavelengths, and field parameters. The reason these anomolies are discussed is because the changes in the magnetic density levels have a core relationship withgreater changes taking place throughout the entire galaxy. more

RECENT EMAIL: TOP SECRET INFO
FWD: I received a snail-mail-letter today with highly classified information: NASA knows since quite a time affirmative, that a PLANET--not an asteroid--is crossing Earth-orbit in August, and they instructed all those knowing about, to shut their mouths (and computers).

NIBIRU

"WHAT IS APPROACHING US" Father Malachi Martin

PUFORI DREAMBOARD: THIS SUN IS ILL

FROM THE HEART OF THE SUN

ANGELS IN SPACE