ORBIT ALERT: SOLAR STORM CONTINUES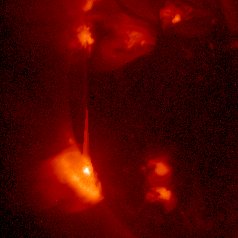 NEW MAGNETIC STORM
YO
YOHKOH: 07/22/98 9:37 PST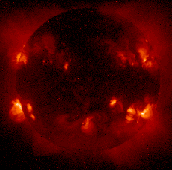 PLEASE SEND YOUR COMPASS READINGS
Hi Kent, I am located at Mackay, Queensland, Australia, 149 degrees 10 minutes 30 seconds East and 21 degrees 8 minutes South. I have a liquid filled compass mounted on my office wall. It was set up to reverse read North about 18 months ago as I was aware of magnetic disturbances some 6 years ago. The time is now 0245 am EST and the compass is showing a North magnetic deviation of 5 degrees to the West. I had not looked at it for days but your post prompted me.
SYZYGYJOB (Jim Berkland): And my WW2 Japanese Compass shows a deviation of 5 degrees to the NE. (at 10:35 a.m. PDT). I have never seen it this far off before.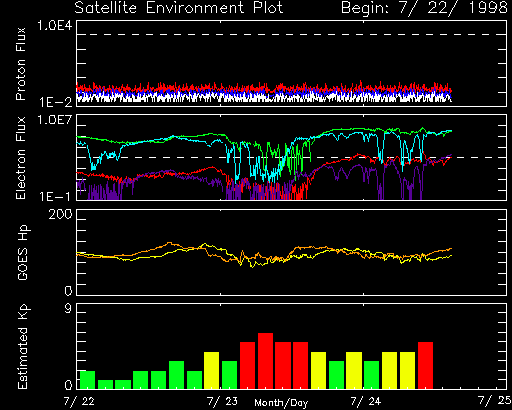 CURRENT INFORMATION
Magnetic Storm Occurring 07.16.98

The Charlotte King Effect - Biological Earthquake Prediction

SYZYGY: An Earthquake Prediction Newsletter
EDITOR'S NOTE: We have received the following correspondences and prior research, but cannot vouch for absolute evidence. We submit here for your discernment:
FUNDAMENTAL TRANSFORMATIONS?
A brief summary concerning the article : Review of the Study of the Rings of Saturn by the Academy For Future Science. (located on the net @ www.affs.org) This article details some of the reasons why there have been large scale anomolies found within the Magnetosphere of planetary ring formation around Saturn.
If you read it very carefully, it gives some direction how magnetism interrelates with gravity and how large scale Electromagnetic "bursts" are effecting the formation of new magnetic alignments, wavelengths, and field parameters. The reason these anomolies are discussed is because the changes in the magnetic density levels have a core relationship withgreater changes taking place throughout the entire galaxy. more

"WHAT IS APPROACHING US" Father Malachi Martin

RECENT EMAIL: TOP SECRET INFO
FWD: I received a snail-mail-letter today with highly classified information: NASA knows since quite a time affirmative, that a PLANET--not an asteroid--is crossing Earth-orbit in August, and they instructed all those knowing about, to shut their mouths (and computers).

NIBIRU

WONDROUS OBJECT NEAR THE SUN
VENTURE INTO THE VAULT OF WONDERS

.
PLEASE RETURN: THIS SITE CONSTANTLY CHANGES

OPTIONAL MIDI J.S. BACH FUGUE
..
PLEASE CONTINUE REGULAR FEATURE
.
.