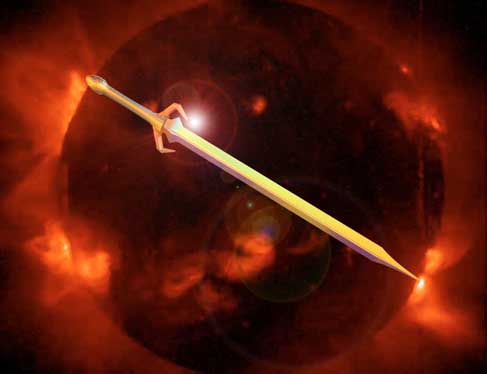 .

.
BACKUP: MIGHTY FLARES OF NOVEMBER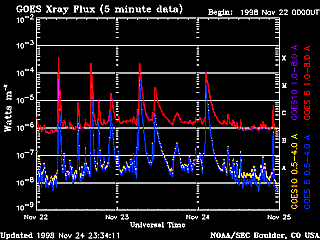 ..
UNEXPECTED!
SEC 11/21/98 FORECAST: SOLAR ACTIVITY IS EXPECTED TO REMAIN AT LOW LEVELS

SOHO RECOVERY TEAM LOGS, 22-Nov-98 05:44:22: The sun looks very quiet this evening.
HOWEVER:
Satellite Proton Event Warning Issued 22 November. PCA Event Warning associated with the Proton Event Warning. Major class X3.7 proton flare observed from southwest solar limb at 06:42 UTC on 22 November. Types II and IV sweeps observed. Radio tenflare also observed at 10cm wavelengths.
WILL THESE FLARES CREATE A MAGNETIC STORM ON EARTH?
NOTE FROM AN OBSERVER, 98-11-24 17:47:06 EST: A CME pushes the solar wind out a head of it. It actually pushes space too. As it passes nearby it may create ripples like a wake of a ship and this could be the cause of these readings. We could be in the red in the next few hours.

YOHKOH MPEG

YOHKOH MPEG2

LATEST STILL

SOHO/LASCO

SOHO RECOVERY TEAM LOGS

AURORA

SOUND OF AURORA

MAGNETOGRAMS: Tromsø, Andøya, Longyearbyen, Ny Ålesund

HAARP

SOLAR TERRESTRIAL DISPATCH

ALL SKY IMAGER: SOUTH POLE STATION

EDUCATIONAL OUTREACH

GLOSSARY

OBSERVATORIUM

MAGNETOSPHERE YELLOW PAGES
...
Magnetic Storm 11/13/98

Magnetic Storm 11/9/98

Magnetic Storm 10/19/98

Magnetic Storm 08/25/98

Magnetic Storm 07/30/98

Magnetic Storm 07/23/98

Magnetic Storm 07/16/98
Subj: X3 Flare Occurs 11.22.98 1500 UTC
Date: 98-11-22 09:50:50 EST
From: hblonde1@tampabay.rr.com (New Millennium)
X3 Flare Occurs 11.22.98 1500 UTC
At about 0630 UTC this morning, a sudden X3 Class Xray flare occurred. This event was accompanied by radio bursts and sweeps indicating shock wave and likely CME activity coincident to it. The flare was of medium duration and was followed by a C9 or threshold M-Class flare event a few hours later. A small Proton event also began shortly after the peak of this major flare, and is continuing..
| | |
| --- | --- |
| THINGS TO COME | STD: There is growing interest over an area of increasing coronal emission on the northeast solar limb, in the vicinity of where old active Region 8375 formerly resided two weeks ago. X-ray imagery is now clearly showing large coronal loop structures, a sign of an older and large active region. Also of recent interest are NSO observations of moderate to strong Ca XV coronal emissions. The appearance of these emissions suggests that the active region may be somewhat volatile or prone to flaring. Current EIT movies from the SOHO spacecraft are showing clear signs of coronal activity, both in the northeast and southeast (and of course off the southwest limb where the recent major flaring has been occuring). The activity behind the northeast limb is still several days away from coming into view. |
.
BEHOLD

When the magnetic field of the planet drops to null, does he spirit take wing? Does the Second Sight look beyond the electromagnetic barrier to perceive the clearer picture? Or even more profoundly, can vision actually CREATE the next holographic dream?

In an infinite Cosmos all dreams are true.
SOLAR STORMS-EARTH STORMS