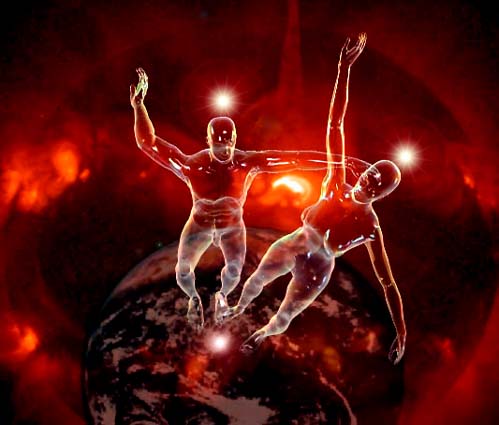 11/14/98 Energetic electrons fluxes at greater than 2 MeV have increased to high to very high levels over the last 24 hours. Fluence levels have increased to moderate levels and are continuing to increase toward high levels. The source of this activity is a high-speed solar coronal hole wind stream. There is an increasing risk for deep-dielectric charging related anomalies on spacecraft exposed to the high-density electron environment. Spacecraft in geosynchronous and high-inclination orbits are the most susceptible. These conditions are expected to persist for at least the next 3 to 5 days.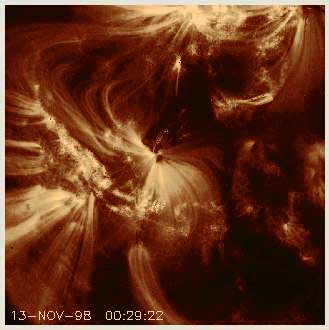 EDITOR'S NOTE: bizarre upswelling X-ray flux unlike anything seen previously. Perhaps we are witnessing a solar quake: "could not connect to mdiwww or sohowww from home earlier this morning, but I can ping quake from here"--MDI Operator's log.
BEHOLD

When the magnetic field of the planet drops to null, does he spirit take wing? Does the Second Sight look beyond the electromagnetic barrier to perceive the clearer picture? Or even more profoundly, can vision actually CREATE the next holographic dream?

In an infinite Cosmos all dreams are true.
.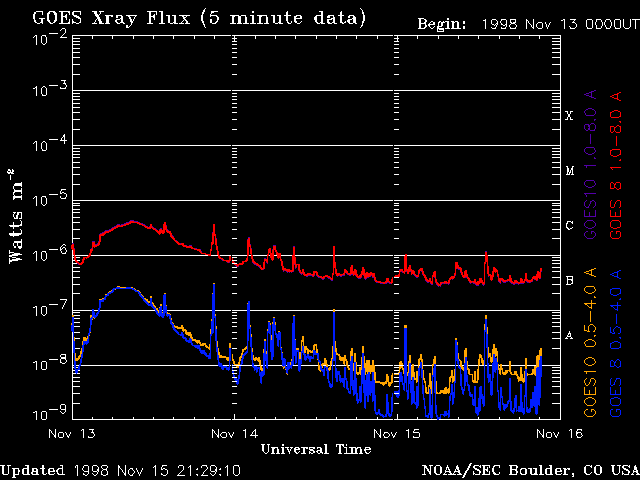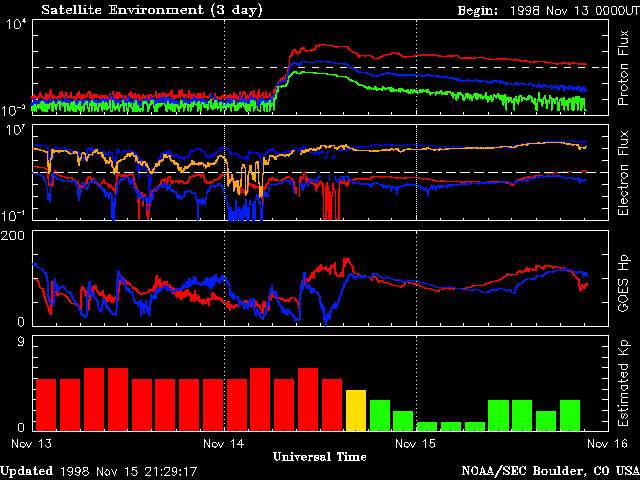 Proton Flux ..

Electron Flux...

Magnetometer ..

Kp Index
11/14/98: Protons at greater than 10 MeV have exceeded the event threshold of 10 pfu and are very rapidly increasing beyond 100 pfu. Proton densities are continuing to increase at the time of this writing. Polar cap absorption is also increasing rapidly and is beginning to heavily affect polar and high latitude radio signal propagation on the HF bands. The effects are propagating into the middle latitude regions due to the expansion of the auroral ovals into the middle latitudes during the current geomagnetic and auroral storm activity. A much higher population of communications may therefore be affected during this proton event.


YOHKOH MPEG

YOHKOH MPEG2

LATEST STILL

SOHO/LASCO

SOHO RECOVERY TEAM LOGS

AURORA

SOUND OF AURORA

MAGNETOGRAMS: Tromsø, Andøya, Longyearbyen, Ny Ålesund

HAARP

SOLAR TERRESTRIAL DISPATCH

ALL SKY IMAGER: SOUTH POLE STATION

EDUCATIONAL OUTREACH

GLOSSARY

OBSERVATORIUM

MAGNETOSPHERE YELLOW PAGES
Magnetic Storm 11/9/98

Magnetic Storm 10/19/98

Magnetic Storm 08/25/98

Magnetic Storm 07/30/98

Magnetic Storm 07/23/98

Magnetic Storm 07/16/98
.
11/13/98

MAGNETIC STORM

PROTON STORM

MYSTERY SIGNAL
TROUBLING STATEMENT FROM THE AMERICAN ASTRONOMICAL SOCIETY: We have made direct comparisons with the observations made with the X-ray monitors on GOES7, GOES8, and GOES9 where we have folded the measured spectrum through the GOES response functions. The NEAR PIN detector PHA completely spans the effective response of the GOES short wavelength channel, commonly 0.5-4 Angstroms, and shows significantly more flux over this effective bandwidth. For the NEAR measurement best represented by an isothermal over the effective energy range, the NEAR derived GOES fluxes would be 30-50% larger than those reported.

FOR FURTHER SOLAR DETAILS SEE:
.

Magnetic Storm Event Beginning 11.13.98 0400 UTC
At approximately 0200 UTC [9:00 am EST] a sudden sharp disturbance impacted the Magnetic field. The electron reading went into sudden flux and the magnetometer readings at the GOES satellites dropped rapidly from around 130 to around 30. The planetary magnetism [kP] readings jumped from 1 to 5 [red bar/storm level] following this impact on the magnetic field.
This disturbance is most likely in association with the CME observed on November 9th, but is surprisingly sudden and potent in it's onset and could possibly indicate a more significant event than the active to isolated minor storm conditions that were previously forecast by the SEC. No magnetic storm watches had been issued... as this event was forecast to remain below watch parameters.
Proton Event/Magnetic Storm Occurring 11.14.98 1400 UTC
As of around 0800 UTC [3 am EST] this morning, a Proton event began. This event was large enough to warrant event warnings from the SEC, and the event is still continuing now. Once again this Proton event was not preceded by the typical major flare event that one would expect.
The Magnetic storm that began yesterday is continuing uninterrupted, with planetary magnetism [kP] readings having been in the "red" [storm levels] for 36 hours continuously now. The GOES magnetometer readings continue to be quite volatile and dropped to near zero again early this morning.