THIS EVENT SEEMED DIFFERENT; DID SOMETHING PROFOUND HAPPEN:

A COSMIC TRYST?
| | |
| --- | --- |
| | |

.
.

(NETSCAPE 800X600) Please upgrade to latest Netscape technology with plugins for JPL mpegs:
REGION 8375 WOLF FLARE

EDITOR'S NOTE: when a flare bursts on Sol we pull the alert to the front, ORBIT, and stay at watch for possible magstorm. M-class flares are now looming and centered in a dangerous position to target earth. To view other investigations please continue here

EDITOR'S NOTE: 11/11/98: Will leave this alert active for several days. Too much is happening with the sun. 11/9/98 due to recent solar events it looks like we'll be seeing gradually increasing magnetic disturbances. An unexpected proton storm now ensues. A potential exists for M to X-class flares from region 8375. Based on current forecasts we will keep this alert active through the weekend and watch the wave roll in.
MAGNETIC STORM 11/7/98

This one indicates one of the strongest storms we have experienced to date. Note the radiation bursts shown on the second chart. I wouldn't be surprised if there were some power outages during this time period. ELFRAD HIGH STRANGENESS 11/4/98 REPORT
.
. AUTO UPDATED DATA CHARTS, IMAGES
ANIMATED HISTORICAL EVENT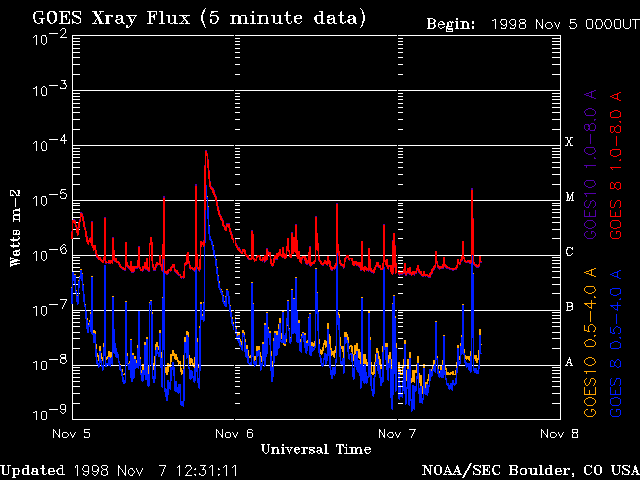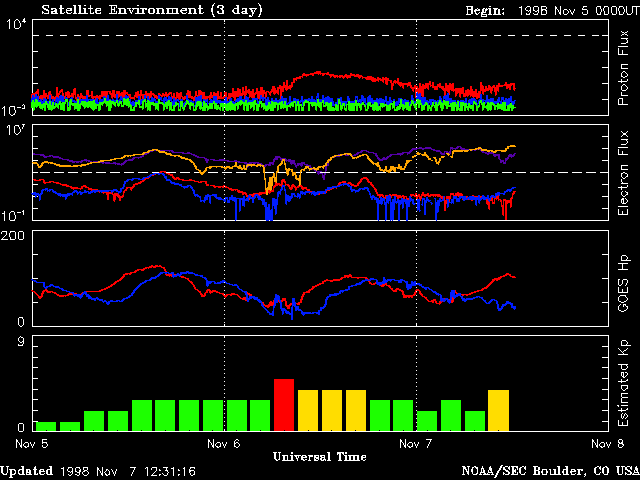 Proton Flux .

Electron Flux..

Magnetometer ..

Kp Index.

Scientists have warned of a new millennium disaster - from outer space. They say electromagnetic space storms will wipe out telephone lines and television signals, cripple aircraft navigation systems and leave cities without power supplies. MORE
11/9/98 DANGER (OR SPIRITUAL)

EARTH SHIELDS DOWN AND INCOMING

If these data (magnetometer, top/right) drop to near zero, or less, when the satellite is on the dayside it may be due to a compression of Earth's magnetopause to within geosynchronous orbit, exposing satellites to negative and/or highly variable magnetic fields.

ARTIST'S DEPICTION OF EVENT

11/8/98 WEIRD MAGNETOMETER

Is Ma Earth flirting?
.

CURRENT SOLWATCH AUTO-UPDATE SOLAR DATA & GRAPHS
PLUGIN FOR MPEGS:


YOHKOH MPEG

YOHKOH MPEG2

LATEST STILL

SOHO/LASCO

SOHO RECOVERY TEAM LOGS

AURORA

SOUND OF AURORA

MAGNETOGRAMS: Tromsø, Andøya, Longyearbyen, Ny Ålesund

HAARP

SOLAR TERRESTRIAL DISPATCH

ALL SKY IMAGER: SOUTH POLE STATION

EDUCATIONAL OUTREACH

GLOSSARY

OBSERVATORIUM
Magnetic Storm 10/19/98

Magnetic (PROTON) Storm 10/1/98

Magnetic Storm Occurring 08/25/98

UPDATED C2 ANIMATION

Magnetic Storm Occurring 07/30/98

Magnetic Storm Occurring 07/23/98

Magnetic Storm Occurring 07/16/98
AFTERMATH: KEEP AN EYE ON RADAR AND SEISMIC

11/11/98 UNSETTLED TO ACTIVE LEVELS ARE FORECAST FOR 13 NOV IN RESPONSE TO THE PARTIAL HALO MASS EJECTION OBSERVED ON 09 NOV.
11/5/98: THE CAUSE FOR THE POTENTIAL INCREASE IN GEOMAGNETIC ACTIVITY IS DUE TO A PARTIAL HALO CME THAT WAS OBSERVED BY THE LASCO/SOHO SATELLITE ON 02/1354UT. THIS WAS IN CONJUNCTION WITH A C1/N1 FLARE IN REGION 8376 LOCATED AT S25E44 AT THAT TIME. THE FULL HALO CME OBSERVED TODAY AT 04/0418UT COULD POSSIBLY CAUSE GEOMAGNETIC ACTIVITY LATE ON NOVEMBER 6TH OR ON NOVEMBER 7TH.

Major Magnetic Storm Occurring 11.08.98 1500 UTC
As of 1200 UTC this morning [0700 EST], the Magnetic-A Index had exceeded 50 making this a major level magnetic storm. Planetary magnetism [kP] readings during the night and morning hours have been in the red for 12 consecutive hours with the highest hour average being an "8" on the 0-9 scale.
GOES Magnetometer and Electron levels have been extremely volatile, and the low level Proton event has continued as well. The SEC has extended the magnetic storm watches through the 10th due to the recent series of flares and CMEs. Nearly continuos C-Class flaring is also occurring today.
Solar/Magnetic/Quake Update - 11.07.98 2230 UTC
Moderate solar flare activity continued today with several C-Class events and a single M2 event detected. Another new active region was also numbered today. The SEC forecast remains the same... for moderate to high activity with a 75% chance for M-Class and 50% chance for X-Class and Proton events. Type II radio bursts were also observed late yesterday, indicating shock waves traveling across the solar surface.
The geomagnetic field became stormy today as was forecast, with several periods of minor storm [red bar] readings. Magnetometer readings were highly volatile at the GOES 8 and GOES 10 satellites as were electron readings. The low level Proton event that began yesterday had started to fade but then went back up and is still continuing. The magnetic storm watches continue through Monday the 9th, with active to minor storm conditions expected. The full halo CME observed on the 5th should impact the magnetosphere tomorrow [Nov. 8th.]
Moderate quakes continued in a wide range of regions, especially along the western coast of Central America and southwest Asia. A small but very shallow quake was reported near Helena Montana and was felt as a loud rumbling by local residents. Here is the latest from the USGS:
Date UTC Mag Location
11/06 21:37 4.9 HINDU KUSH REG, AFGHANISTAN
11/06 22:52 5.5 ANDAMAN ISLANDS, INDIA
11/07 02:43 2.5 MONTANA[near Helena]
11/07 05:35 4.5 HOKKAIDO, JAPAN REGION
11/07 08:28 4.6 NEAR COAST OF GUATEMALA
11/07 09:07 4.8 SEA OF OKHOTSK
11/07 12:29 4.6 OAXACA, MEXICO
11/07 14:20 4.8 NEAR COAST OF NICARAGUA
| | |
| --- | --- |
| | RADAR ANOMALY: SOUTHERN CA 11/6/98 |


WAS THE SHUTTLE CREW IN DANGER?
Intense solar flares release very-high-energy particles that can be as injurious to humans as the low-energy radiation from nuclear blasts. Earth's atmosphere and magnetosphere allow adequate protection for us on the ground, but astronauts in space are subject to potentially lethal dosages of radiation. The penetration of high-energy particles into living cells, measured as radiation dose, leads to chromosome damage and, potentially, cancer. Large doses can be fatal immediately. Solar protons with energies greater than 30 MeV are particularly hazardous. In October 1989, the Sun produced enough energetic particles that an astronaut on the Moon, wearing only a space suit and caught out in the brunt of the storm, would probably have died. (Astronauts who had time to gain safety in a shelter beneath moon soil would have absorbed only slight amounts of radiation.)
CONTINUE TO OTHER NEW FEATURES

.