GOES SATELLITE QUAKE SIGNS?
SIGNS THAT THE VOLCANIC CENTER IN THE SALTON SEA IS VENTING

Date: 98-10-03 20:40:36 EDT
Hi Kent:
I've been analyzing the Hot-Spot Web-page for the University of Hawaii Volcanology Dept. for a reported anomaly located by them in Anaheim, California. No this is not a joke! It appears it is not that area which triggered the alert. I kept an eye on the map and began to see a developing hot spot on the Salton Sea just off-shore of Bombay Beach. They are currently monitoring this area for the next Big One on the San Andreas fault. This is the section that fails once every 350 years with a massive M8+ earthquake!
What I don't quite understand is the use of the Anaheim location for the trigger point of an alert that is clearly 100 miles to the east of there! Is it possible that Anaheim (A Hot-Chili Pepper Variety) is a code word for them in order not to panic the general public while the danger exists? I wonder...
http://volcano1.pgd.hawaii.edu/goes/goes.shtml note:http://volcano1.pgd.hawaii.edu/goes/anaheim/latest.shtml. Please get to work on this before it disappears into the ether once more.
Frank Condon "Geo-Seismic-Labs" GOES Hot Spot Images
UPDATED GSL-Magnetometer Reading Warnings
PLUMES

FOLLOW UPS FROM FRANK CONDON

ANIMATION: CAL-NEV MAP

GOES 9 MPEGS

DEBATE

REBUTTAL FROM DANIEL J. KARNES

REBUTTAL FROM FRANK CONDON
SOUTHERN CALIFORNIA CONTINUOUS STRAIN NETWORK
EDITOR'S NOTE: LOOK FOR YELLOW-GREEN HOTSPOTS IN IMAGES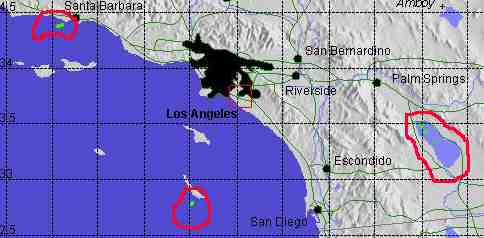 HIDDEN VOLCANOES UNDER THE SAND
DANIEL J. KARNES: KIMBERLITES
SALTON BUTTES LAVA DOMES, CALIFORNIA

KATE HUTTON OF CALTECH: A small quake like this isn't necessarily a cause for alarm, even if it does turn out to be on the San Andreas. However, it is interesting because we don't have too many like it.
1ST SYZYGY EARTHQUAKE PREDICTION MESSAGE BOARD

THE CHARLOTTE KING EFFECT: Biological Earthquake Prediction
ETNA LIVE CAM
THOUSANDS OF HOMING PIGEONS MISSING IN TWO RACES

MISSING PIGEONS MEAN EARTHQUAKE?
Corini has records of Bay Area pigeon races going back decades, and he spent some time researching the greatest smash race in local history. The date caused me to gasp. It was March 24, 1964, which I knew was just 3 days before the greatest quake measured for North America, the 8.5M Richter (9.2Mw Moment magnitude) Alaskan Quake on *Good Friday*, 1964.

QUAKE AND VOLCANO ARCHIVES
MAMMOTH ALERT (LAST SIGNIFICANT QUAKE PATTERN) OLDER DATA
CHINA LAKE QUAKES: Earthquakes near Secret Base at China Lake, CA
MT ST HELENS CAM MT SHASTA CAM MT ETNA CAM
ARMAGEDDON
ALERT

ETNA CAM

MOUNT ENTNA FLOWS

REPORTED BY FLASH
..
10/12/98: RADAR CIRCLES APPEAR OVER THE NE

See full size images, radar loop animations and notes from ORBIT reader-reporters. IMPORTANT! Contributors: Please let editor know if name and email link can be used to help assist in independent verification and research. Also enclose as much detail as possible, ESPECIALLY URLs where material is found.
| | | |
| --- | --- | --- |
| GABRIEL'S HORN | | |

| | |
| --- | --- |
| | HEAR AND SEE EVENT 10/7 PROTON EVENT 10/1 |

LIZ EDWARDS: MAELSTROM OF SOULS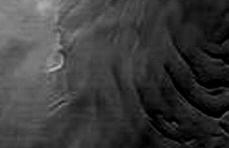 MARS: Is NASA hiding an underground colony?

I WONDER PRODUCTIONS

THE LEONIDS COUNTDOWN
Will we need to import teacher's from more traditional third-world countries to help us survive the blow to our fragile tech after Y2K, or before: the impending meteor hurricane?


LATE EVERY AUTUMN around November 17th or 18th, in the still, silent hours before dawn, dedicated meteor watchers have long kept a vigil.

GAMMA BURST COUNTDOWN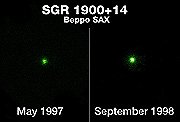 ARE THE STARS, PLANETS, EVEN FRAIL HUMANS, IN RESONANCE TO A CENTRAL SIGNAL?

UPDATE: DEEP SPACE BLAST DISRUPTS OUR ATMOSPHERE

SEE EVENT AS POSTED BY ORBIT IN AUGUST
CONTINUE TO OTHER NEW FEATURES