.
| | |
| --- | --- |
| | |
| | 12/25/99 C2 |
SUN CRUISER IS BACK (no planets in area)

EMAIL, 12/27/99 1:37:19 PM Pacific Standard Time: After I emailed you the picture of the sun cruiser last night, I noted that there were no further images posted on either the NASA site or the Navy site for twelve hours! I checked each site every thirty minutes throughout the night hoping to catch another image. The Sun Cruiser was imaged at 5:18am UTC on Lasco C3. The Next update was not until 14:18 Hours UTC. This is quite a gap for a system that usually updates its images twice an hour!


Nemesis, The Sun's Companion Star
EMAIL, 12/25/99 1:44:12 PM Pacific Standard Time: Here's another interesting item: for two weeks the Nasa SOHO site had a notice that it would shut down December 24, 1999 at 00:00 for software upgrades. Not only did it not shut down Xmas Eve, its up and running today, Christmas day. Is somebody worried about something that its manned through the Holiday?
TURN OF THE MILLENNIUM

| | |
| --- | --- |
| | GEOPHYSICAL ACTIVITY FORECAST: THE GEOMAGNETIC FIELD WILL CONTINUE AT UNSETTLED TO ACTIVE LEVELS. A LARGE, GEOEFFECTIVELY POSITIONED CORONAL HOLE WILL PROLONG THE CURRENT DISTURBANCE THROUGH DAY THREE. |
12/30/99 10:04:32 AM Pacific Standard Time
Hello Kent, Looks as if the sun is having a tantrum. Check out the Elfrad Cam. Later, Charlie
http://www.elfrad.net/ecam.html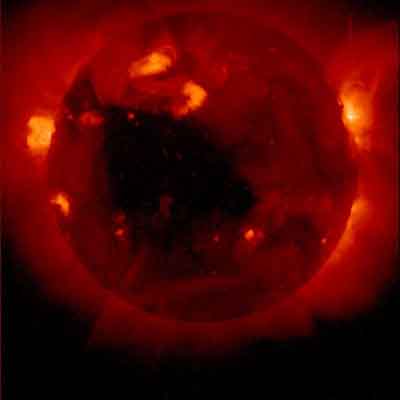 12/30/99 9:52:30 AM Pacific Standard Time

Watching the Nasa and Navy Lasco C3 sites last night I noted that no images were posted after 2318 UTC 12/29/99. Finally an image was posted at 4:18UTC 12/30/99.

Low and behold, it contained an image of a large solar prominence extending hundreds of thousand, maybe millions of miles from the sun, curl in on itself to form what looks like a giant number 6. In two years of looking at the daily images, I have not seen this before. The magnetic force at that distance must be very large.
EMAIL, 12/30/99 1:24:38 PM Pacific Standard Time: UFO Starts Swamp Fire - (LAROSE) -- Several people in rural Lafourche Parish southwest of New Orleans called the sheriff's office claiming a bright, blazing object streaked across the night sky, broke in two and set a marsh ablaze. Even though no hard evidence was found except for burned areas, local scientists say the U-F-O was probably a meteorite that did not burn up in the earth's atmosphere. Air Traffic Controllers at nearby New Orleans International reported no planes in the area at the time and say nothing showed up on their radar.




EARTHQUAKE REPORTED NEAR CAIRO
28Dec1999 12:05:13.8 30.3N 31.6E 10 ML=4.5 M ISR EGYPT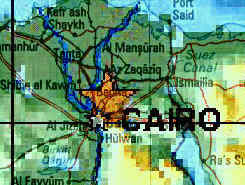 THE GIZA RITUAL (Disclaimer, not sure I buy this scenario)


World situation: Neuro-influence technology

| | |
| --- | --- |
| HAIL TO THE SEEKER: PROCEED | |