SABRES & RINGS

Interview

MER ROUGE -- Thousands of blackbirds are dying in north Louisiana and nobody seems to know why.

.

.

NEWSFLASH

.

.

SOHO BACK IN LINE (SORT OF)

RADAR ANOMALIES

INTENSIVE STUDY: FOLLOW THE AFTERMATH

The Serpent hatches

January 21-22 1999

Jan 21 & 22 superimposed

AFTERMATH OF

THIS RING

FOLLOW-UP: 1-29-99

FOLLOW-UP: 1-30-99

3 DAY COMPOSITE

DISPERSAL OF STORM

January 28, 1999

SPECIAL WEATHER STATEMENT NATIONAL WEATHER SERVICE LUBBOCK TX 505 AM CST SAT JAN 30 1999

RECORD RAINFALL IN LOUISIANA 205 AM CST SAT JAN 30 1999

RECORD RAINFALL IN TEXAS 615 AM CST SAT JAN 30 1999

DEBUNKER EMAIL: I just had an opportunity to come across your site: What pablum! What inaccuracies! GWEN - a weather modification station - GET REAL! No more so than your average 50,000 AM radio station!! Geez!!! You and others like you are doing a disservice to the public! My advice: Get a EE degree and study electronics come away with a feel for the truth! Stop with the 'magic' BS already! My God man ... you're just plain wrong on so much ...
Weather as a Force Multiplier: Owning the Weather in 2025
THUS FROM THE FALCON'S BEAK WE HAVE THIS DIAGRAM


THE TESLA SHIELD
IPELS: MESO-SONIC MOTION THROUGH THE MAGNETOPLASMA

BORDERLAND SCIENCES RESEARCH FOUNDATION:
Borderland Sciences has been given permission to post two very significant research papers by Dr. Bernard J. Eastlund:
1. SYSTEMS CONSIDERATIONS OF WEATHER MODIFICATION EXPERIMENTS USING HIGH POWER ELECTROMAGNETIC RADIATION, Published in Proceedings of "Workshop on Space Exploration and Resources Exploitation-Explospace," 20-22 October, 1998, Cagliari, Sardinia, Italy.
2. MESOCYCLONE DIAGNOSTIC REQUIREMENTS FOR THUNDERSTORM SOLAR POWER SATELLITE CONCEPT, Published in the Proceedings of "The Second Conference on the Applications of Remote Sensing and GIS for Disaster Management", January 19-21, 1999.

ANALYSIS OF EASTLUND PAPERS

ORBIT EDITOR: The role of WRS-88D Doppler Radar (and other "downlooking radar") in the weather-modification system: are pulse rings at least tell-tale indicators (of targeting devices) for the impending deployment of atmospheric energizers, and thus, weather-modification to come? Storms are zapped with high-powered electromagnetic beams from TSPS, Thunderstorm Solar Power Satellites. Discussions above include molecular modification of the atmosphere. QUERY: Does anyone recall discussions of a Russian "Prometheus Weapon?"

PATENTS
US5038664: Method for producing a shell of relativistic particles at an altitude above the earth's surface
US4686605: Method and apparatus for altering a region in the earth's atmosphere, ionosphere, and/or magnetosphere
US5041834: Artificial ionospheric mirror composed of a plasma layer which can be tilted
US4817495: Defense system for discriminating between objects in space
US4412967: Multistage high voltage accelerator for intense charged particle beams

THE PROOF IS IN THE PULSE
(ONLINE DISCUSSIONS)
EMAIL: The power level is likely 10 to 100 megawatts peak, this is in a short duty cycle pulse of around .01 percent, or 100 nanoseconds on, 1 millisecond off for example. This example would cause a "rep rate" of 1000 Hz. The average power delivered is only one ten-thousandth of the peak power, or about 1000 to 10,000 watts. There has been discussion before that I've heard about using the NEXRAD transmitters for mind control and such. The rep rate and other parameters are most likely computer controlled, allowing numerous combinations of rep rates and peak and average power outputs. They could conceivably set it to anything they want... Woodpecker anyone?
QUESTION: Are NEXRAD and GWN finder scopes for bigger guns?
ANSWER: There's a lot of speculation in those articles. NEXRAD would only be used to collect data, build databases, and act as a feedback mechanism for weather modification. HAARP is the keystone here: Ionospheric heating. HAARP seems to me like only a research tool. The REAL damage will be done by application-specific transmitters (heaters). These will be multi-gigawatt CW (continuous wave, as opposed to pulsed technology) transmitter farms. Space-based platforms, nuclear powered, will be even more versatile. More
EMAIL: It's my impression that the heaters in Russia and Sweden have been running powers in the multi-megawatt range for a long time before HAARP was even conceived. Certainly the Woodpecker "radar" was heard all over the globe and was causing severe interference to shortwave communications in the 1980s.
EMAIL: Looks like the peak power is somewhat less than I guessed. Average power is about what I thought which translates to a longer pulse width. Actual ERP (Effective Radiated Power) must be calculated from peak power out at the klystron (this is the vacuum tube final amplifier stage) and antenna gain. That is 45.5 dB on the main lobe, which results in an ERP in excess of 7.5 gigawatts! The rep rate would appear to be between 318 and 1304 Hz. The software adjusts it automatically depending on how far away the echo is detected. Hardware design would support any rep rate between 0 and 1300 Hz (4 to 30 Hz brain waves??).
EMAIL: Seriously, pulse power electronics can do some amazing stuff. Like those self-defense shocker devices, turn a 250 lb. assailant into a quivering blob on the ground for a couple of minutes - all with a standard 9-volt transistor radio battery. You can make megawatts of peak power with a wall socket. But just about everything we use in daily life runs CW (continuous wave), so it's not something most people are familiar with.
MORE HAARP
PRIMER: ELECTROMAGNETIC WAVES
Has anybody given a thought to transmitting a beneficial signal?
How about a wave-form generator based on sine-waves in the Fibonacci Series, ie, the Golden Ratio?
0...1...1...2...3....5...8....13....21....34...55....89...144....infinity
When you divide the integer by its prior, you get a mean that fluctuates above and below the 1.618 phi-constant. A good pulse? Earth-food? Kent
| | |
| --- | --- |
| ARCHIVERS | RAVEN |
BRIGHT SKIES
Harry Mason

PAPUA: THE DAY THE SEA CAUGHT FIRE

Did somebody fire up TEVATRON in Chicago?.
| | |
| --- | --- |
| RARE: 2/1/99 | RARE: 2/3/99 |
| | |

2/6/99 GEORGIA

2/6/99 GEORGIA ANIMO

STONE RINGS, ON AND OFF WORLD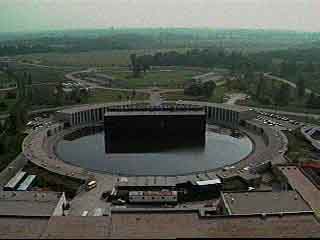 Worried about saving the spotted owl? How about opening a white hole in Chicago, summoning primordial energy, and blasting a supernova to zap everything eighty light years out?
AN ANCIENT RING IN MIAMI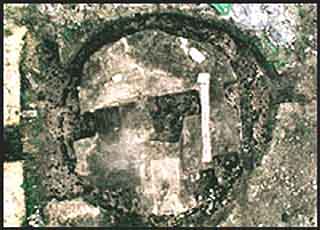 I Wonder Productions & Research
| | |
| --- | --- |
| | |
| The Millimeter Array (MMA) Project has begun the Design and Development phase of building a millimeter wavelength interferometer. The project, funded by the National Science Foundation, includes thirty-six 10-meter antennas arranged in large circular patterns between 80 m and 3 km across. The array will be located in Llano de Chajnantor, Chile at an elevation of 16,400 feet. This telescope will be the largest and most sensitive instrument in the world at millimeter and submillimeter wavelengths. | Stones, stars, the directions, time -- these can speak to us out of an otherwise mostly silent past. Sometimes their language is intuitive, spiritual, meanings or awe will be felt by the sensitive, but can't really be communicated. But when scientists, rather than anthros, get interested, the cosmos speaks, and they can hear it through mathematics. What may have been lost in the mists of time can be found again. |
MORE RINGS:
MECCA, MAYA, STONEHENGE, MARS, ANASAZI
HOPEWELL OCTAGON EARTHWORKS: LUNAR OBSERVATORY
POLYGON CRATERS: MOON, STONEHENGE ON MARS
| | |
| --- | --- |
| | |
| MARS: Syrtis Major Planum | Delphi |

ELAINE LUCAS: SYRTIS MAJOR PLANUM, EYE OF HORUS
IN SEARCH FOR THE SEVEN CITIES OF MARS
ET PRESENCE: COSMIC PEACE
I have reached the tentative conclusion that virtually all of the U.S.'s elected and appointed officials, including the President and Cabinet members, are "out of the loop" on this subject.

| | |
| --- | --- |
| RAVEN ALERT | |
| | HIGH ALERT! PEOPLE IN THE VICINITY OF SENECA LAKE, NEW YORK! I TOOK THESE PICTURES FROM MY BEDROOM WINDOW AT APPROX. 10:15AM TODAY FEBRUARY 1, 1999. SO DOES IT FEEL A LITTLE MORE REAL NOW? THIS "SEEDING" WAS CARRIED OUT IN TOTAL SILENCE. I JUST HAPPENED TO GLANCE OUT MY WINDOW AND, WOW, COULDN'T BELIEVE MY EYES! |
WHISKEYTOWN: A perplexing and unusual-looking substance, perhaps a rare form of life, has been discovered at two natural springs in Whiskeytown National Recreation Area

PATENTS
US5286979: Process for absorbing ultraviolet radiation using dispersed melanin
US4999637: Creation of artificial ionization clouds above the earth
US3608810: METHODS OF TREATING ATMOSPHERIC CONDITIONS

Additional related patents (materials: seeding, etc)
EMAIL: As to why the government is doing this, check out the x-ray flux of the sun over the last few years. The clouds are being created to keep people from cooking on the ground..

EVEN WHEN SOMETHING IS EXPLAINED, IT MIGHT NOT GO AWAY


THE RUSSIAN SPACE MIRROR

DOES USGS UNDER-REPORT?

TRY RED PUMA!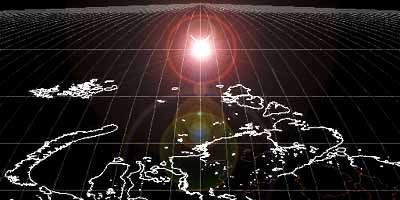 QUAKES NEAR THE NORTH POLE:
99/02/01 04:52:39 85.47N 87.37E 10.0 5.1Mb B NORTH OF SEVERNAYA ZEMLYA
99/02/01 09:56:34 85.64N 83.55E 10.0 5.2Ms A NORTH OF SEVERNAYA ZEMLYA
99/02/01 11:55:15 85.76N 83.63E 10.0 4.5Mb C NORTH OF SEVERNAYA ZEMLYA
99/02/01 11:56:00 85.59N 85.78E 10.0 5.5Ms A NORTH OF SEVERNAYA ZEMLYA

WEATHER MODIFICATION: Weather as a Force Multiplier: Owning the Weather in 2025
According to Gen Gordon Sullivan, former Army chief of staff, "As we leap technology into the 21st century, we will be able to see the enemy day or night, in any weather--and go after him relentlessly." A global, precise, real-time, robust, systematic weather-modification capability would provide war-fighting CINCs with a powerful force multiplier to achieve military objectives.
AIR FORCE: Star Tek-Exploiting the Final Frontier: Counterspace Operations in 2025
The explosive generator (or applicable weapon) will fire a fine tuned graduated pulse at the target. The goal is to deny the space capability through disruption and not destruction.
SEISMIC WEAPONS: Russians cling to dream of nuclear earthquake weapon September 15, 1996 by Carey Scott, Moscow
DISCOVERY CHANNEL ONLINE: Mexico City Electrocutes Air Pollution
In October, a controlled injection of free electrical charges in the atmosphere, through large antennas, resulted in the lowest air ozone levels since 1986. The electrical experiments manipulate weather conditions to create cleansing rains or winds to sweep away the pollution, the ministry explained.
METEOR STREAKS ACROSS WESTERN SKY: Meteor Streaks Across Western Sky
Tuesday, February 2, 1999; 2:13 p.m. EST: SAN FRANCISCO (AP) -- A small meteor streaked across the Western sky this morning, startling people from San Francisco to Las Vegas, more than 400 miles away.
ARCHIVES: SEATTLE FIREBALLS
ARCHIVES: PROJECTILES ON PARALLEL TRAJECTORY STRIKE THE SUN

Y2K

Y2K SILVER BULLET PATENT ISSUED SILVER BULLET PATENT ISSUED FOR SPEEDY YEAR 2000 SOLUTION

The Great New Madrid Earthquake

IONOSPHERE: GEOMAGNETIC FIELD FOR EXTERNAL THRUST

WOODPECKER: TESLA WEATHER CONTROL
The Tesla transmitters create giant standing ELF waves that have repeatedly formed huge blocking-system that alter the path of the high altitude jet stream and dam up the normal flow of weather fronts.

Planetary Society Announces Support for Optical SETI
We have been listening for alien signals for decades; it's time we started to watch for signals as well.

SCIENTISTS CATCH A LIVE GAMMA BURST
More energy comes out in 10 seconds than the sun will ever emit in its 10-billion-year lifetime

WHEN THE EARTH NEARLY DIED

PROJECT BLUE BEAM

Possible holographic image discovered by Flash Radar
.

| | |
| --- | --- |
| HAIL TO THE SEEKER: PROCEED | |

MOST RECENT INVESTIGATIONS:
.