..
Best with Netscape 800X600: Left, actual spear anomaly; right, artist's overlay and ring anomaly
EDITORS NOTE: The cultural assignment of the artist is to scout ahead, unencumbered by cultural parameters, or the latest beliefs in science. Theory follows later, and is not necessarily within the domain and responsibility of the artist.
With radar anomalies it is our position is to do a simple watch, advancing no theory. The radar anomalies have prompted us to look elsewhere for parallel events, the subsequent weather, the influence of solar activity, ELF monitoring, and likewise to look into various ionosphere heating projects such as HAARP, EISCAT, HISCAT, Arecibo; additional projects such as Sanquine, GWEN, accelerators (Fermilab, Triumf, CERN), even quake activities over regions such as China Lake, etc..
CROP CIRCLES

IN THE SKY

EDITORS NOTE: The radar anomaly watch began when one night last March, 1998, Liz Edwards from I wonder Productions brought to my attention that she was seeing what looked like "crop circles in the sky." Liz sent me an image of an amazing symmetrical ring and with the help of Delores Finney we began to pay attention. Observing radar anomalies for about a year now, many times we have seen fierce weather even seismic activity follow the anomaly's appearance on doppler radar.

In my opinion there are too many different shapes and patterns to easily dismiss the phenomenon by the ground-flash and other explanations. We have often observed that the anomalies seem to be precedent for tornadoes, floods, even quakes. Lately new "spear-shapes" have suddenly become predominant. Keep in mind that for us this is an intuitive quest.

These wondrous symbols we deem "crop circles in the sky" and suggest that the phenomena be studied in a similar long-enduring manner with theory and hypothesis following later. Our main archives are found throughout the pages of ORBIT as well as in libraries maintained by Flash and Raven. Thanks to the Enterprise Mission for helping to expand this watch. Kent Steadman
AS MANY AS POSSIBLE SHOULD IMMEDIATELY JOIN THE REAL-TIME WATCH
DON'T BLINK YET: ANOMALIES ONGOING

OTHER RECENT ANIMATIONS

Anomaly: New York Anomaly: Indiana Anomaly: Northwest

Date: 98-12-13 00:43:35 EST: From: ulf@elfrad.com (Elfrad Group)

Sending a quick shot...very narrow width pulses.
.

A FASCINATING WATCH; HERE IS HOW IT WORKS:
EXPERIMENTS IN RADAR ANOMALY-ENVIRONMENTAL IMPACT OBSERVATION
re: radar anomaly in Texas Date: 98-12-10 12:28:12 EST From: (Rex and Ruth Torres)
Hi, Kent...you posted a picture of a pulse on radar over Texas yesterday - guess what? Today they're calling for a "dangerous flash flood threat"! Here it is:

BULLETIN...IMMEDIATE BROADCAST REQUESTED FLASH FLOOD WATCH NATIONAL WEATHER SERVICE AUSTIN/SAN ANTONIO TX522 AM CST THU DEC 10 1998. MORE:

Currently we are watching this Southwest region again because of an anomaly under clear skies on 12/13/88. Let us see what happens. Usually after a pulse ring we expect a wait of 24-48 hours for after-effects. The weather seems to come later. Why? Any theories?
| | | | |
| --- | --- | --- | --- |
| 12/13/98 | 12/14/98 | 12/15/98 | 12/16/98 |
| | | | |

TX1100 AM CST MON DEC 14 1998 THIS RIVER FLOOD STATEMENT APPLIES TO THE SULPHUR RIVER BASIN IN EAST TEXAS... TO THE TRINITY RIVER BASIN IN NORTH TEXAS

12-28-98 11:10 AM PST Oregon doppler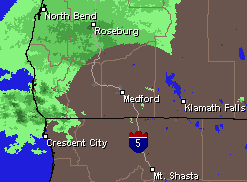 .
Yesterday I saved two Images of the same place La Crosse, WI. Please take a look as this one you may have missed. There appears to be a "negative" zone in the shape of, you guessed it, a perfect circle. continue

SEARCH FOR THE DRAGON

If you wander through the ORBIT pages you will see many such watches, some involving weather, others seismic, even the more mysterious . . .

FOR INTERNET SLEUTHS: GWEN, Ground Wave Emergency Network
MYSTERIOUS NOTE: There is an antennae system built across the united states, one every approximate 200-250 miles. This system is called GWEN, for Ground Wave Emergency Network. It was built on the premis of being a backup emergency communications network, in the event of a nuclear attack. Wrong. It is a weather modifications and control system. Let us know what you find Here is the primary link

readers have been sending. ......

Signals (digitized sounds)

MORE ABOUT GWEN:
While I was in Kanab (Southern Utah) I was invited to a meeting of the Kane County Commissioners regarding the installation of a GWEN antenna nearby about 10 miles East of town. Nobody could understand the Environmental Impact Statement the Air Force had mailed them so they asked me to analyze it. There was data regarding effects of the frequencies to air, groundwater, trees, insects, turtles, spotted owls, etc. ad infinitum everything EXCEPT the effects on HUMANS. The only reference to human studies were taken from a Swedish study at an entirely different (VLF) frequency. continue

WEATHER MODIFICATION: Weather as a Force Multiplier: Owning the Weather in 2025
According to Gen Gordon Sullivan, former Army chief of staff, "As we leap technology into the 21st century, we will be able to see the enemy day or night, in any weather--and go after him relentlessly." A global, precise, real-time, robust, systematic weather-modification capability would provide war-fighting CINCs with a powerful force multiplier to achieve military objectives.


MAXWELL'S SILVER HAMMER
The Soviets have led the way in learning about the risks of electropollution, and, as we have seen, they've apparently been the first to harness those dangers for malicious intent. However, the spectrum of potential weapons extends far beyond the limits of the Moscow signal, and Americans have been actively exploring some of them for many years. Most or all of the following EMR effects can be scaled up or down for use against individuals or whole crowds and armies

RADAR AND QUAKES:

WATCH .

WATCH 2

EASTER ANOMALY

OTHER
| | |
| --- | --- |
| | The redflash anomaly has been a forerunner to quake. Let's watch this, showing 12/18/98. |


ONGOING CONVERSATIONS WITH A RADAR TECH
This is an ongoing, open-ended debate. Please contribute.

NEXT GENERATION RADARS
(NWS) will operate 116 of the NEXRADs; the Department of Defense (DoD) will operate 22

Two scalar hemispherical surfaces are created, using multiple frequency transmitters and truncated Fourier series expansions. Interference of the two scalar hemispheres creates a great, glowing hemispherical shell of ordinary electromagnetic energy. In the shell, the energy density is sufficient to lift Dirac matter from the Dirac sea of vacuum. The shell is thus filled with a glowing plasma. Such a shell may be several hundreds of miles in diameter at the base. The enormous energy required to form such a defense shell is obtained by a "scalar power tap" into the molten core of the earth itself . . .


DEPLOYMENT PLASMA GENERATORS, ELECTRON GUNS ONBOARD MIR



THE ENTERPRISE MISSION
PETER GERSTEN (CAUS) AND RICHARD HOAGLAND ON ART BELL 12/14/98



FIBONACCI PULSE, 12/15/98


CHINA LAKE WEAPONS DIGEST
Weather modification was another area of China Lake preeminence. Between 1949 and 1978China Lake developed concepts, techniques, and hardware that were successfully used in hurricane abatement, fog control, and drought relief. Military application of this technology was demonstrated in 1966 when Project Popeye was conducted to enhance rainfall to help interdict traffic on the Ho Chi Minh Trail.

THE MILLENNIUM PROJECT

.
| | |
| --- | --- |
| ONGOING DEBATE | The heater frequency is at 6.77 MHz. The experiments at EISCAT are dated as 1992. Would this create almost instantaneous shifting that is seen in the radar imaging within the ORBIT website? |
| | That model looks like/explains the radar imaging posted from ELFRAD. The model shows Out-Flowing Deflected Ions; Magnetic Perturbation flowing outward. At the exact middle of the circle is an area labeled "Wake". The surface of the circular plane is called "Boom Tip Radius". And, within the Boom Tip Radius is the "Ionization Pair" and "Plasma/EM Waves." Pressing inward is "Suprathermal Electrons" and "Ionospheric Thermal Electrons". |
MESO-SONIC MOTION THROUGH THE MAGNETOPLASMA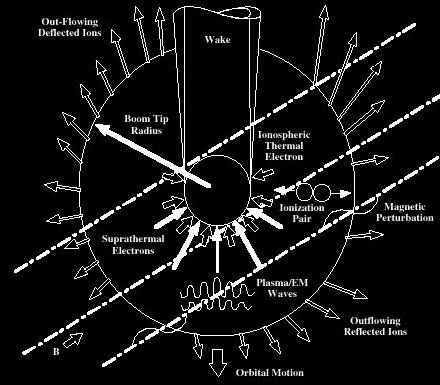 AMARILLO RADAR CIRCLE SUPERIMPOSED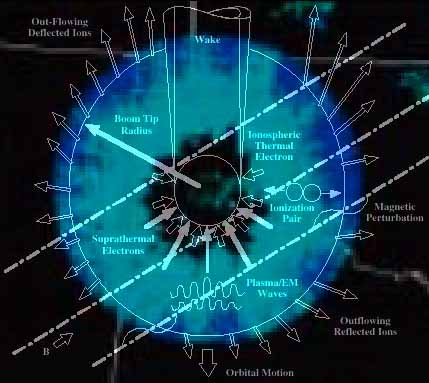 Kathy Kasten discovery of interrelationship
1. scroll down to IPELS, click
2. scroll down to "Posters", click
3. look for "Enhanced Current Collection Characteristics of the Tethered Satellite System Missions: Prospects for Laboratory Simulation" by Gilchrist, Stone, Raitt, Thompson, Bonifzai, Dobrowolny, Laframboise, and Gallimore.
4. Also, the other poster to look for is: "Observations of Enhanced Plasma Lines in HF Ionospheric Modification Experiments and their Interpretation" by Hagfors, Isham and Mishin.
These papers support each other, and should both be read.
| | |
| --- | --- |
| HAIL TO THE TRAVELER: PROCEED | |