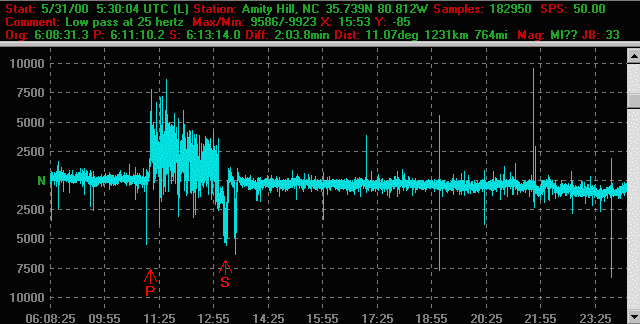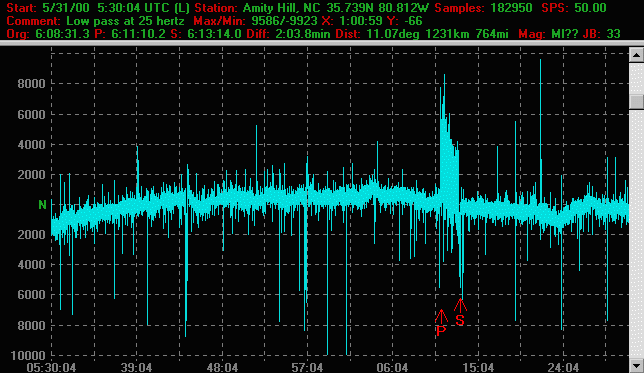 Subj: 3 AM
Date: 5/31/00 9:09:06 AM Pacific Daylight Time
From: cplyler@elfrad.com (Charlie)
To: listen@midrivers.com (Debra Mohon)
CC: BARDSQUILL@aol.com (BARDSQUILL@aol.com), FrankCondon@geo-seismic-labs.org (FrankCondon@geo-seismic-labs.org)
File: 3AM.zip (31524 bytes)
DL Time (TCP/IP): < 1 minute
Hi Debra,
Brookhaven could be blowing bubbles.
Looks as if we may be onto something. These graphs I am sending
are from the data capture this morning showing an ultra low
frequency magnetic burst at 3:11 AM EDT. (7:11 UTC) Please notice
that disturbance lasted for almost precisely two minutes. There was
a magnetic buildup prior to the burst for 15 minutes, disappearing
at the time of the event.
It would be interesting to see if any fireballs were noticed
anywhere around that time. There was a huge fireball sighted
over Colorado on May 27. There was a magnetic indication just like
this one at that time.
Good luck on your snooping.
> Debra Mohon wrote:
>
> Let me know what is going on as soon as you get a minute...
>
> Your gif has been published to this page:
> http://members.xoom.com/_XMCM/listening2/newpage12.htm
> Debra
>
> Check out my NEW web site;;; Radar Reality Check!
> http://members.xoom.com/_XMCM/listening2/Default.htm